Last Updated on May 28, 2020 by Sam Corbin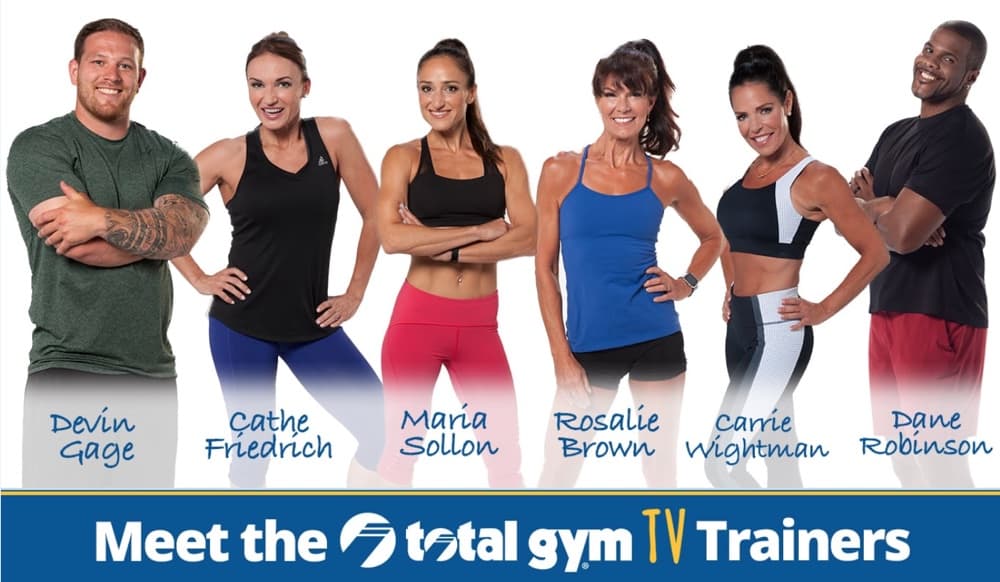 Lookin for an honest Total Gym TV review? Well, the Total Gym Workout System is admired by millions of users and has become a wonderful part of modern home gyms. Due to this increasing interest and popularity, the team behind this workout equipment has launched a cutting-edge streaming service named "Total Gym TV." This service promises to offer boatloads of content, experienced instructors, and endless opportunities to see results.
While the Total Gym TV sounds intriguing, does it live up to the hype? Does it have the ability to improve your home gym workouts?
This detailed review is going to take a look at what the Total Gym TV service is all about, how much it costs, and whether or not it is a good fit for your needs.
What is Total Gym TV?
The Total Gym TV service is a straightforward on-demand video platform designed to stream Total Gym workouts via the Internet. This allows users to quickly access the content using different devices including their computer, TV, tablet, or a variety of other options. This versatility is designed to make working out at home easier and more diversified.
This on-demand content is designed to work with all Total Gym machines.
Here's a quick video to see Total Gym TV in action…
How Does it Work?
Total Gym TV comes in two distinct levels of access – Basic and Premium.
Total Gym TV Basic
With Total Gym TV Basic users get an opportunity to enjoy FREE content through the digital platform. This includes a slew of workout programs including some of the most popular Classic Total Gym Workout Programs recorded by the company. These workouts were previously sold in DVD form but have been digitized for the online platform.
Along with this, the Basic program also provides additional workout programs recorded by qualified trainers.
Total Gym TV Premium
With Total Gym TV Premium, users have to pay a small monthly fee to gain access to new content. This subscription model offers updated content throughout the month including newly recorded Total Gym Workouts. These workouts are readily available for all Total Gym Premium members along with everything made for the Basic program.
After the device has been logged into the platform, users can easily go through the various workouts based on what is available through their package. Simply find the workout best suited to your needs, click on it, and watch as it starts playing within seconds.
As of right now, Total Gym Tv is compatible with a variety of Internet-based devices such as iOS, Roku, FireTV, and Android, tvOS (Apple TV).
Total Gym TV Workouts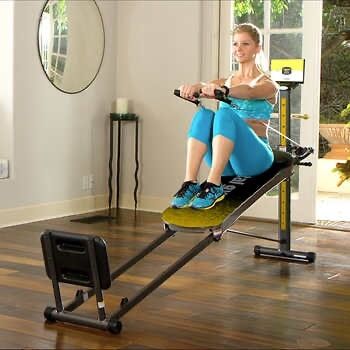 Awesome Abs & Arms
Six Pack & Back
Yoga Vibes
Grand Slam Smash
Start It Up
30/30
Pedal Power
High Velocity
Definitions (Total Body)
And More!
What Equipment is Needed?
To use the Total Gym TV service, the user is expected to own at least one Total Gym machine at home (see our Total Gym review to learn more). All of the workouts are based around these machines but users are welcome to invest in any model without compromising on quality. This is essential for those with older models that are hoping to join in on the fun.
For those without equipment, these workouts aren't going to work as most revolve around using the machine.
It's important to note, this subscription service has been designed to add to a Total Gym member's experience. As a result, having the machine ready to go is mandatory.
Pros & Cons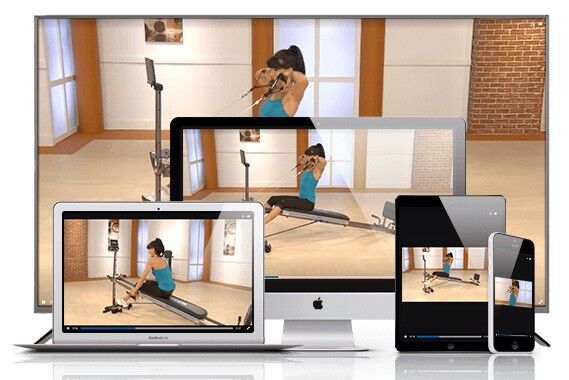 Pros
1. Wonderful Catalog of Workouts
It all starts with the workouts and how well-distributed they are in terms of strength, cardio, and general fitness. There is something for everyone regardless of their goals making it a wonderful addition to your home gym setup.
Anyone with a Total Gym machine should take a look at signing up for the Premium service. The endless stream of workouts will ensure there is always something new to do when you start working out.
2. Ideal for Beginners
Beginners get frustrated when it is time to build a workout program and follow it. Total Gym TV takes most of the guesswork out of the process because of its qualified instructors. These individuals take the time to go through each step making it a no-brainer for beginners.
Beginners will enjoy the following advantages:
Tips and tricks for optimizing a workout
Tips on how to adjust the machine
Can work out all muscle groups evenly
These advantages are essential for beginners wanting a well-rounded program.
3. Easy to Set Up and Use
How long does it take to set everything up? It doesn't take more than a few seconds to have the platform up and running. The platform is fully compatible with a variety of Internet-based devices making it as user-friendly as possible.
4. Expert Advice
Want to learn from the best when it comes to Total Gym machines?
It's one thing to have a Total Gym machine and another to know what it has to offer. This is why being able to watch as a qualified professional complete different exercises can be a game-changer.
It's one of the best ways to learn the right technique and get more out of your workouts.
Cons
1. Requires an Initial Investment
Without having a Total Gym machine, users won't be able to get much out of the Total Gym TV service. This means an initial investment has to be made for those wanting to get started in this ecosystem.
The initial investment is going to be pricey but there's incredible value in what the on-demand service has to offer. Many users have mentioned owning the machines for over a decade illustrating how well-designed they are.
2. Locked Out Content in the Basic Package
Users will get annoyed by the locked content when using their Basic package. While it's okay to have limited content in the Basic package (because it's free!) but the locked content shouldn't get in the way of your experience.
Many users are left trying to scroll past all of these locked workouts before finding something that's accessible. This may be done on purpose to sell the Premium service but it is an issue.
User Testimonials: Positive and Negative Feedback from Real Customers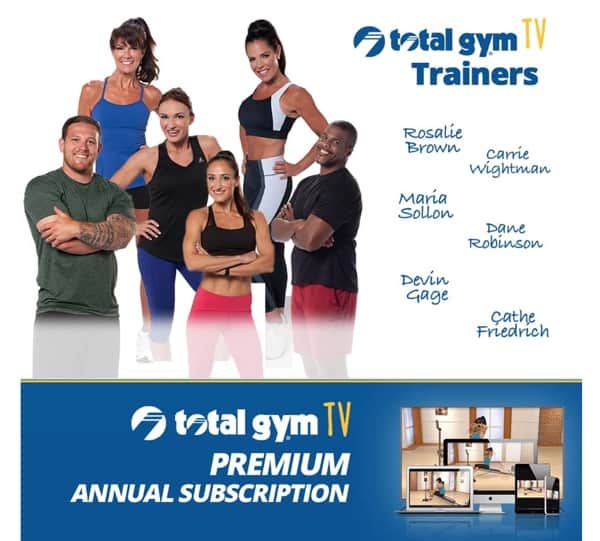 Let's take a look at what other users have to say when it comes to Total Gym TV. Do they love what it has to offer? Do they feel something should improve?
Here's a peek at what they have to say.
Users are commonly seen mentioning benefits such as:
Easy to Use
Perfect for Losing Weight and/or Gaining Strength
Fun and Engaging
Cumbersome Locked Content in the Basic Package
This shows the level of engagement when it comes to Total Gym TV and what it brings to the table for members. Anyone taking the opportunity to sign up will appreciate the value of this on-demand platform.
Total Gym TV Price: How Much Does it Cost?
Total Gym TV Basic Monthly Subscription: FREE
Total Gym TV Premium Monthly Subscription: $9.95
Total Gym TV Premium Annual Subscription: $69.95
Review Summary: Where to Buy
Total Gym TV is a powerful on-demand platform with loads of quality content.
The team behind this has taken the time to design a sleek, user-friendly platform that syncs with a long list of Internet-based devices. Whether it is an iOS device or an Android, Total Gym TV is going to work like a charm.
Along with its compatibility, Total Gym TV also offers access to some of the finest workout content on the market right now. Anyone that owns a Total Gym machine will want to take a look at the subscription service as soon as possible.
It's a game-changer and is going to add value to your workout sessions right away.
Ready to get started…You can buy Total Gym TV Below:
---
Resources