Last Updated on December 28, 2020 by Sam Corbin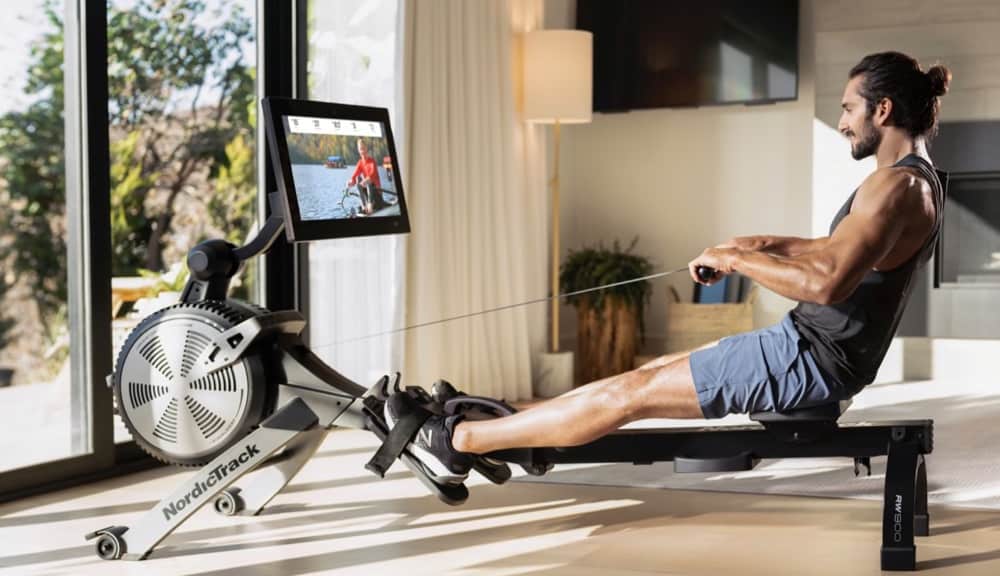 Looking for the best NordicTrack RW Rower review? Did you know that rowing workouts are some of the most effective to improve your overall health and well-being? Yes, the latest research reveals that regular rowing sessions improve your cardiovascular health and help build lean muscle at the same time [1].
It does all this while putting little stress on your joints. If you want to improve your overall health and well-being staying at home, the best thing you can do is to invest in a high-quality rowing machine.
One hour of rowing will burn at least 800 calories compared to 300-walking, 600-swimming, and around 700 calories if you run for one hour [2]. The best thing is you get to burn all these calories while staying indoors and not getting exposed to adverse weather conditions!
Working out on a rowing machine has a host of health benefits such as:
Effective training with less stress on your joints
Works out all of the major muscle groups of the body
Great for improving your cardiovascular health
Require very little storage space since most rowing machines could be folded for storage
Burn much more calories in one-hour compared to most of the other exercise equipment
If you are unhappy with your current body weight or lack of muscle tone, you won't find a better exercise than rowing to reduce your weight and tone the muscles.
Just imagine how you would feel when you start to achieve your weight loss goals with a rowing machine!
That's why you need to invest in a high-quality rowing machine on the market.
Features to consider include the size, noise levels, easy storage, usability, on demand workout options, and price.
Luckily, the NordicTrack RW rower checks all these boxes and more. In this NordicTrack RW Rower review, we'll show you exactly why these are one of the top-rated rowing machines on the planet.
What is the NordicTrack RW Rower?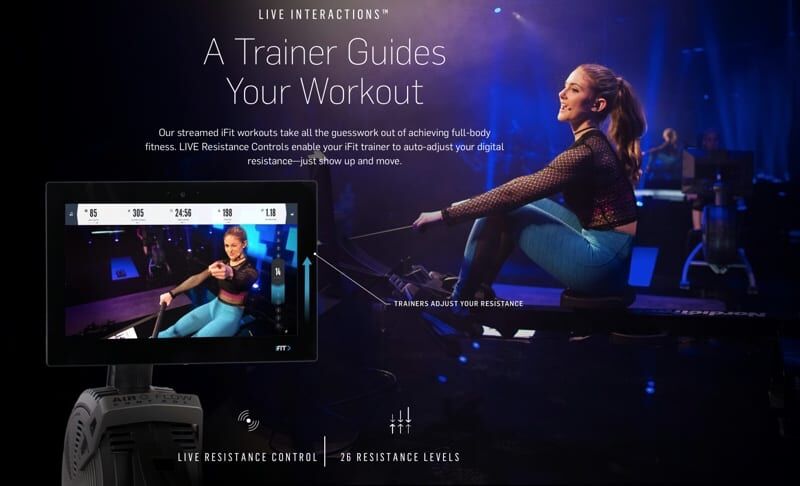 NordicTrack is a brand that has been able to take rowing workouts to the next level with its novel and technologically-advanced features. NordicTrack is one of the very first rowing brands that included onboard entertainment on its rowing machine models.
Their models provide interactive, on-demand rowing workouts to take your rowing workout sessions to the next level. The product is loaded with many useful programs and is quite affordable to the average user.
The machine harnesses air-resistance to work out all the muscle groups of your body. It helps build strength while keeping your heart rate up.
The faster you row, the harder the NordicTrack pushes back.
The machine comes with exercise guidance in the form of 20-odd preset workout programs. It includes a combination of watts as well as calorie-burn workouts as well as different levels of interval training.
You can use the machine's built-in sound system by plugging in an MP3 or CD player to help with your workouts.
The NordicTrack RW series has several compact models that help you save space in your home. These models are part of NordicTrack's SpaceSaver rowing machines. You can fold and roll away the unit when not in use. It can be easily stored in a closet-equivalent space if you live in a small house or apartment.
NordicTrack RW rowers are quite affordable for the value you get from the machines. Here it is in action…
Think the NordicTrack RW looks like a good fit?
NordicTrack RW Rower Models, Features, And Specs
NordicTrack RW has three popular rowing machine models on the market. The RW200, RW500, and RW900 are these three products.
RW200
Cost: See Current Price on Amazon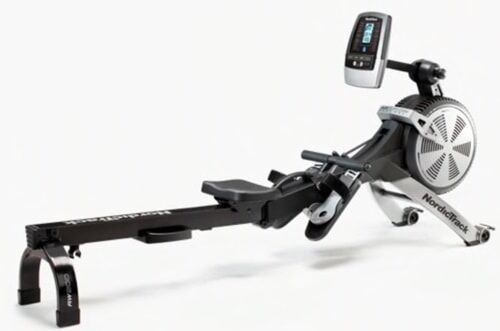 NordicTrack RW200 is the first rowing machine released by the company. The company has been active in the market from the early 1990s but it was a while before they introduced a rowing machine. The machine offers a smooth and strong rowing stroke that's ideal for all ages and fitness levels. It provides a full-body workout with good resistance and a very low impact.
The machine comes with an advanced monitor to accompany the iFit fitness app. The RW200 is and air and magnetic-resistance machine.
The air resistance works by pulling the handle of the machine and spinning a flywheel – located at the front of the rower. When the flywheel spins, the air is sucked into the housing to create the necessary resistance.
The faster you row, the more resistance you will have. On the other hand, magnetic resistance works by moving a magnet closer and farther to the metal flywheel located inside the housing.
The machine has a fully-adjustable monitor with a backlit display. The monitor helps track data such as strokes, distance, calories, SPM or strokes per minute, Watts (power), time, and Watts meter. The monitor will automatically turn on and could be adjusted up or down depending on your height.
Features And Specs
LCD Display
Heart rate monitoring
Air and magnetic resistance with 10 levels of resistance to select from
Airflow control
Cushioned seat
Oversized rail made of steel
Pros
Includes 20 preset workout programs and 10 resistance levels
Transport wheel to make relocation easy
Oversized pedals with adjustable straps
Comfortable and smooth rowing stroke
Cons
Resistance levels are not ideal for an advanced user
The frame is quite heavy
Basic console
RW 500: Works with iFit On Demand Workouts
Cost: See Current Price on Amazon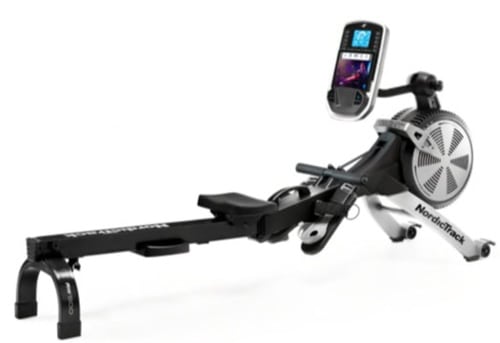 The RW500 is a great product for beginner and intermediate rowers. The 10″ tablet syncs with Nordictrack's iFit Coach app.
It comes with an inertia-enhanced flywheel with magnetic resistance to provide a quiet workout for you.
The machine contains digitally-amplified speakers to enhance the sound you want to hear. You can listen to your favorite music and coaching videos with the help of these speakers.
The oversized foot pedals and adjustable straps are ideal for a comfortable and focused workout as your intensity increases. The space-saver design lets you fold up the machine and store it in a corner when not using it.
The comprehensive warranty shows that NordicTrack stands behind its products.
Features and Specs
Adjustable air with silent magnetic resistance
Ergonomically-molded seat
Inertia-enhanced flywheel
Digital resistance 1 – 26
Oversized steel seat rail
Adjustable console angle
10″ full-color capacitive touch tablet
Pros
30 built-in workouts
Includes 2 two-inch digitally-amplified speakers
5″ backlit display
1-year NordicTrack iFit membership
Cons
250-lbs user capacity
Suitable for beginner and intermediate users
RW900: Works with iFit On Demand Workouts
Cost: See Current Price on Amazon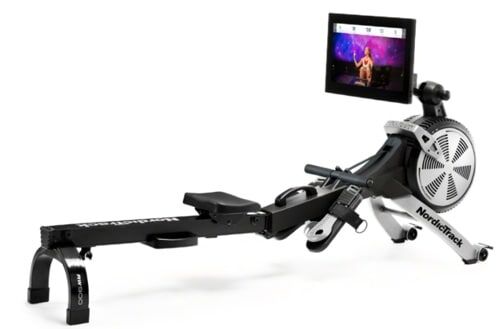 The RW900 is the most-advanced rowing machine released by NordicTrack so far. It includes some of the best features that should be included in a professional rowing machine.
The machine has a 22″ touchscreen display that works in sync with the iFit membership. The iFit membership includes 30 built-in programs and 12,000 plus workout sessions via the app.
The 26 levels of resistance included in the machine help take your rowing workouts to the next level. The silent magnetic resistance makes the machine quieter and smoother compared to other models.
The foldable design helps to store the machine in any corner after your workout sessions. The machine comes with an incredible warranty – 15 years – frame, 5 years – parts, and 2 years on labor. The RW900 is a good purchase for the money you spend on it.
Features and Specs
22″ interactive high definition touchscreen
Dual resistance control
Space-saving design
Auxiliary music port to play your favorite music
iFit coach subscription
30 onboard workouts
Silent magnetic resistance or SMR features
Pros
26 resistance levels
Ergonomic molded seat
Adjustable nylon foot straps
Great warranty
Cons
250 lb user capacity
Most Expensive Model
Learn more about all of the RW Rower below:
iFit: Interactive On-Demand Rowing Workouts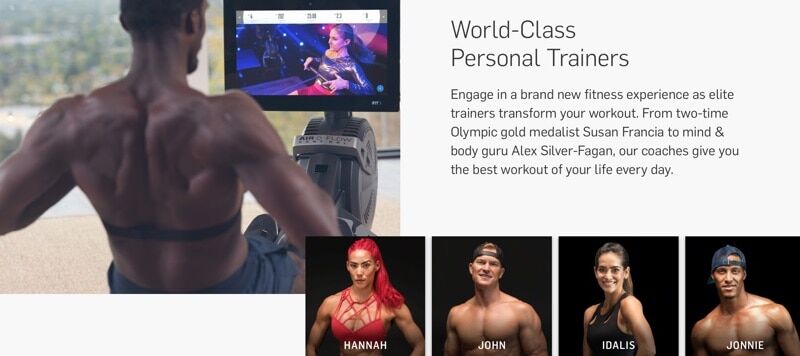 The NordicTrack iFit experience will help take your rowing workouts to the next level. iFit provides interactive on-demand rowing workouts from some of the best personal trainers in the industry.
You will get the opportunity to engage in a brand new fitness experience with this app as elite rowing trainers will help transform your rowing workouts.
You will be coached by the likes of Olympic gold medalist (2-times) Susan Francia, fitness guru Alex Silver-Fagan, and many others. They will give you the best possible workout of your life – every day.
The ever-expanding library of iFit on-demand workouts features live interactive training sessions. The trainers will help remotely adjust the digital resistance and lead you towards some of the most effective rowing workouts to lose weight fast.
The wide variety of workout experiences will let you say goodbye to workout monotony. The live-streamed rowing workouts will take the guesswork out of achieving your weight loss goals.
Live Resistance controls will let the iFit trainer auto-adjust the digital resistance to give you the most effective workout session.
With iFit, you get access to some of the personal training talent on the market today. iFit rowing trainers are some of the most talented in the world. Alex Silver-Fagen from New York is a rowing machine workout specialist trainer on iFit.
Alex is an ACE-certified personal trainer and a Certified Functional Strength Coach (CFSC). Here are some of the most effective sets of rowing workouts put together by Alex:
1. Rowing Machine Workout For Speed
Your stroke rate should be around 28 to 32 and split times need to be around 1:50 when performing these exercises.
100m row & 30 seconds of rest – repeat 5 times
150m row & 45 seconds of rest – repeat 5 times
200m row & 60 seconds of rest – repeat 5 times
[2 minutes of rest]
200m row & 60 seconds of rest – repeat 5 times
150m row & 45 seconds of rest – repeat 5 times
100m row & 30 seconds of rest – repeat 5 times
2. Rowing Machine Workout For Endurance
For with workout, the stroke rate should be between 25 and 28 while the split time should hover around 2 minutes.
One-minute row – 30-second rest – hold the drive position (seat at the back of the rowing machine and legs straight) – perform arm strokes while resting
Two-minute row – 60-second rest: 30-second true rest and 30 seconds rest holding the drive position
Three-minute row – 90-second rest: 30-second true rest – 30-seconds rest holding the drive position and 30 seconds of leg strokes
Assembly Instructions: Are they Hard to Assemble?
The NordicTrack RW series has an out-of-the-box easy assembly. But you will need 2 people to assemble the machine because some of the parts are quite heavy.
If you plan to assemble the machine by yourself, you should consult the user manual of the machine when doing so.
If not, you can opt for in-home assembly for an additional charge at checkout.
Storage Options: Easy to Store?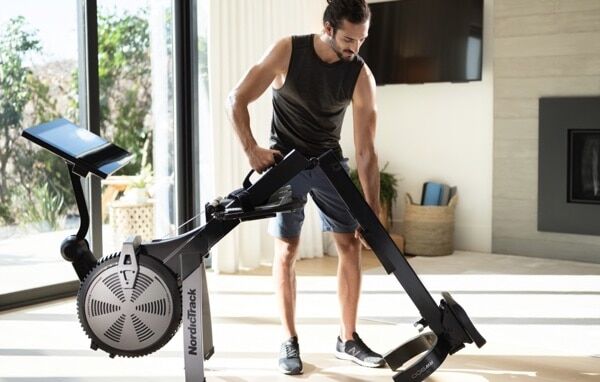 The NordicTrack RW Rowers are built with a space-saving design, so when in use they take up minimal space and have a small footprint.
When you want to tuck them out of the way, that's easy too. Their easy-fold designs makes storing them super easy, as you can see in the picture above.
Real Customer Testimonials (Good & Bad Reviews)
The majority of users have praised NordicTrack rowers as some of the best rowing machines on the market today.
Many of the users are happy with what they got.
Some say that the machine provides a full-body workout and helped them work out even with arthritis. But there are some clients who have complained that they received the product minus the critical connector on the wire connecting to the console. They have complained that customer service should improve further.
Overall, the products are well-received by a majority of users who invested in NordicTrack rowers.
Price: How Much Does The RW Rower Cost?
RW200: $799
RW500: $999
RW900: $1,599
Review Summary: Where to Buy
Are you searching for the best rowing machines on the market?
If so, you don't have to look further than NordicTrack RW rowing machines. The brand has three models such as RW200, RW500, and RW900 of which the RW900 is the most advanced.
It includes some of the latest technologically advanced features and is a great buy for your money.
Amazon is our favorite place to purchase the NordicTrack rowing machine because of their free 2-day shipping via Prime, and their generous return policy.
Learn more below:
---
Resources
Ka-Young, Shin, MD, et al, Effects of Indoor Rowing Exercise on the Body Composition and the Scoliosis of Visually Impaired People: A Preliminary Study, Annals of Rehabilitation Medicine. Retrieved at https://www.ncbi.nlm.nih.gov/pmc/articles/PMC4564707/
Concept2 Calorie Calculator for Rowing, retrieved at https://www.concept2.com/indoor-rowers/training/calculators/calorie-calculator