Last Updated on May 27, 2020 by Sam Corbin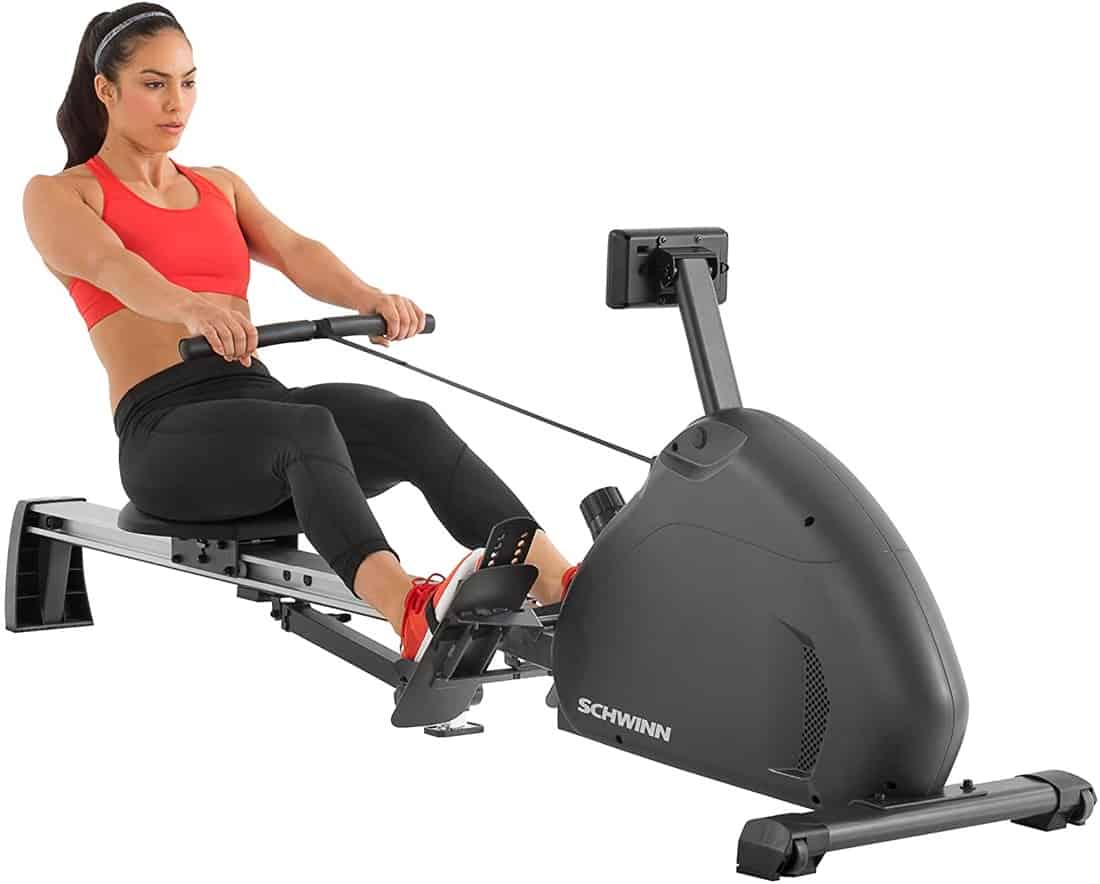 Looking for an honest Schwinn Crewmaster review? Well, while there are plenty of ways to get aerobic exercise, a rowing machine is one of your best options. It's low-impact, works the upper and lower body, and can build endurance. If you exercise with a rowing machine regularly, you'll see a difference in your fitness levels and your health.
If you're in the market for a rowing machine, you'll find that the Schwinn Crewmaster Rower is one of the best options on the market today.
It provides an incredible workout experience at a very affordable price. Currently, this is the only rowing machine made by Schwinn.
In this Schwinn Crewmaster Rowing Machine review, we'll detail why this machine made our must-buy list for 2023, the pros & cons, its features and specs, how much it costs, and where you can buy it.
Ready to get started? Great, let's go…
What is the Schwinn Crewmaster Rowing Machine?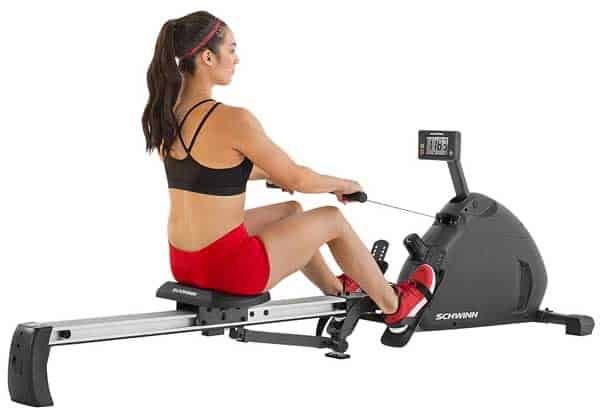 This magnetic rowing machine is designed to deliver a quiet and comfortable workout from the comforts of home. It offers 10 resistance levels, which means it's suitable for both casual and intense exercise sessions. It also includes an LCD display screen that allows you to track your workout metrics.
Because this rower is made by Schwinn, it was designed with durability in mind. It's a powerful piece of fitness equipment that's perfect for home workouts. It can even be folded up and stored when it's not being used. This is a fairly basic rowing machine, but it has a lot of features that make it more appealing to use.
What really helps to set this machine apart from similar options is Schwinn's focus on quality. Schwinn has been making bikes and fitness equipment for over a century, and they've worked hard to maintain their reputation. This is a resilient machine that's made from high-quality components.
Here's a quick look at the Crewmaster in action…
Think the Crewmaster looks like a good fit? Learn more below…
Features & Specs
The Crewmaster offers a variety of user-friendly features, including:
LCD Display – This large display tracks many different metrics, including strokes, distance, time, pulse, and calories burned
Fully Adjustable – This ergonomically-designed rower can be adjusted to fit any user comfortably
Padded Seating – The comfortable cushioned seat is ideal for long workouts
Nylon Transmission – This machine is virtually silent, but it's also extremely powerful
Oversized Pedals – The pedals are on the larger side and include foot straps so that you can securely anchor your feet
10 Magnetic Resistance Levels – Users can choose the resistance level that's right for them
Comfort Grip Handles – The handles have an ergonomic grip, which means you won't have blisters or calluses after a long workout
Compatible With Heart Rate Monitors – Can be used with the heart rate monitor of your choosing
Impressive Warranty: Schwinn stands by its products, and this rower is no exception. With ten years of coverage for the frame and three years of coverage for parts, this is a warranty that's hard to beat.
Dimensions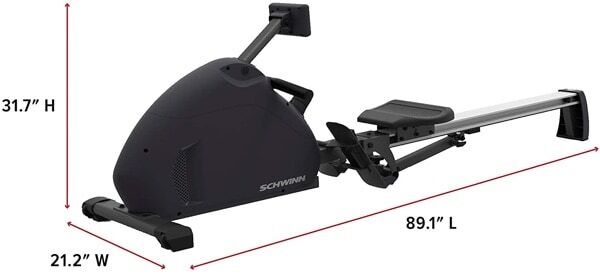 This rower has a height of 7.8", a width of 11", and a length of 56.5". It weighs 75 lbs and has a max user weight of 300 lbs. Although this machine is on the heavier side, it can easily be folded and stored when not in use.
Crewmaster Pros & Cons
It's important to have a complete picture before investing in the Schwinn Crewmaster. There's a lot to love about this rowing machine, but it has a number of drawbacks as well.
Pros
Incredibly comfortable to use
LCD monitor has a large screen that's easy to read
Easy to adjust
Provides silent workouts
Made from durable steel
Fantastic warranty
Can easily be folded and stored
10 levels of magnetic resistance
Virtually silent
Oversized pedals are comfortable for feet of all sizes
Easy to assemble
Cons
Not Bluetooth compatible
Heart monitor is not included
Seat is low to the ground
Does not offer preset programs
Adjustable foot straps may slide when the machine is in use
If you already have a heart monitor, and you weren't planning on connecting this device with any Bluetooth devices, these cons may not be much of a problem. However, if you like to exercise with Bluetooth devices, you may want to look for workout equipment that is compatible with those devices.
Real Customer Testimonials: Positive + Complaints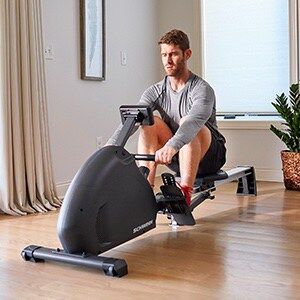 For the most part, users seem thrilled with the Schwinn Crewmaster Rower. Reviewers on the Schwinn website give it an average score of 4.6 stars [1].
Users describe it as an easy-to-use and effective option for cardio workouts. Many users state that having workout equipment like this in their homes makes it easier to make time for exercise.
Customers seem to appreciate that there are 10 different levels of magnetic resistance, which means the machine works well for many different types of workouts. From HIIT workouts to simple warm-ups, the machine can exercise muscles throughout the body.
One reviewer compared exercising with a rowing machine favorably to swimming, saying that it provided a better workout overall.
With that said, customers do seem to have a few complaints. Several reviewers have had difficulties with the adjustable foot straps. Users state that the straps are too high on the footrest and that they do not hold their feet securely in place.
Some reviewers also complained about the size of the rower. Although it can be folded up and stored, it takes up quite a bit of space when it's in use.
Overall, however, the reception to this rower seems to be widely positive. There are several complaints about the foot straps, but some users have solved this problem by wearing bulkier shoes.
The machine has positive reviews from many different types of people, including fitness junkies and people that are just starting to get into shape.
Users say that it's comparable to the kind of high-grade fitness equipment that you can find in gyms. Customers are also thrilled with how quiet the machine is.
Several users say that they can use this rowing machine to workout at night, even when other people in their household are sleeping. The quiet machine also allows you to binge your favorite shows while you exercise.
Even though some reviewers have has issues, it's clear that most customers are satisfied with their rowing machine.
The majority of problems people have are fairly minor, and most of these issues have a clear solution.
Read more Crewmaster testimonials at the Schwinn website…
Is it Easy To Store?
One of the biggest benefits of the Schwinn Crewmaster Rower is its folded storage mode. It's easy to fold the machine and stow the rail when the device is not in use.
However, although this machine is simple to fold up, it's not necessarily easy to store.
This is a fairly bulky machine, and it takes up a lot of space even when it's folded up. If you have a larger closet or a garage that you can store the machine in, this may not be a problem for you. However, if your space is very limited, you may not have enough room to store this piece of exercise equipment.
Price: How Much Does it Cost?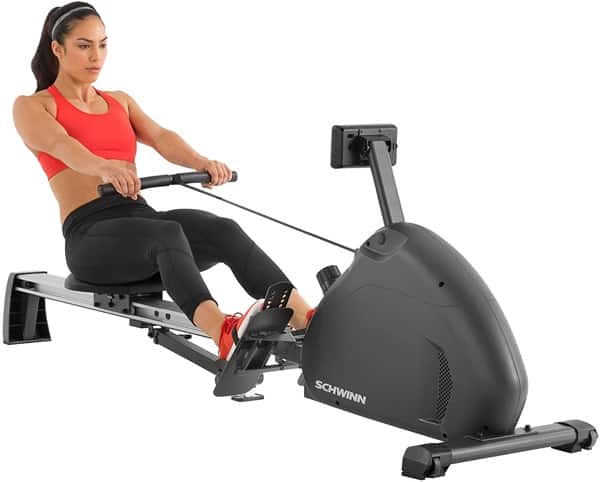 The Crewmaster Rower is priced at $499.
In-home assembly is not included in the price and costs an additional $159. Schwinn does offer free shipping. Additional accessories, such as a floor mat or a heart rate monitor, must be purchased separately.
While this is a very reasonable price, it can be a lot to pay all at once. Thankfully, Schwinn does offer financing options.
If customers pay for their machine using a Schwinn credit card, they will have no interest if the purchase is paid in full within 18 months.
Although the Crewmaster can be purchased directly from Schwinn, it's also sold by a number of other fitness retailers. Prices may vary from one vendor to the next. If you shop around, you may be able to purchase this rower at a discounted price.
However, because Schwinn has excellent customer service, you may have a smoother experience if you buy the machine from their site.
Review Summary: Where to Buy
This is an incredibly durable machine with an impressive warranty. If users choose to invest in this rower, they'll have 10 years of coverage on the frame, a 3-year warranty on parts, and a 1-year labor warranty. That's hard to top, especially when it comes to workout equipment at this price point.
In addition, the Schwinn Crewmaster has a lot of sought-after features that customers look for when they shop for a rowing machine, such as comfortable seating, flexible options, and a design that allows for silent workouts. It can even be stored when not in use, although it's large size can make storage difficult.
This rowing machine has a lot of great features, but it isn't a state-of-the-art machine. It's not Bluetooth compatible, and the LCD screen only displays basic metrics. However, the lack of cutting edge features also means that this machine is more budget-friendly. It's affordable and offers plenty of value for the price.
Even though this machine isn't perfect, it's a truly impressive option, especially when you consider its low price point. Since this rower delivers full-body workouts, it's the perfect piece of equipment to have in your home gym.
If you cancel your gym membership, it won't be long before this rower pays for itself.
Where to Buy
Ready to put the Crewmaster to the test? The best place to get started is at the official Schwinn Fitness website. From there you can see their full line of fitness equipment, get all of the Crewmaster details, and even get financing.
Learn below…
Resources
https://www.schwinnfitness.com/crewmaster/100766.html