Last Updated on December 10, 2020 by Sam Corbin

Schwinn IC4 vs IC3? Well, one thing that's important to know is that Schwinn has become a market leader when it comes to world-class exercise bikes.
This is a piece of equipment that's ideal for building your cardiovascular strength, reducing the load on your joints, and burning calories rapidly.
When designing a home gym, most people have one eye on buying a quality exercise bike and that's where Schwinn comes into action.
Schwinn has engineered some of the finest equipment available right now and that includes the two mentioned in this comparison.
Here's a detailed look at how the Schwinn IC4 and IC3 compare to each other.
Schwinn IC4: Overview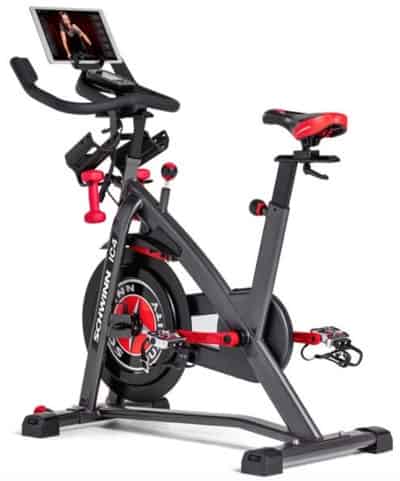 The Schwinn IC4 (read our Schwinn IC4 review) exercise bike is a well-engineered machine designed to provide multiple resistance levels, a gorgeous LCD monitor and complete app integration.
This is heralded for being one of Schwinn's leading exercise bikes due to its ergonomic setup and charming aesthetic appeal.
Features
1. 100 Levels of Resistance
The micro resistance levels are a major advantage for those seeking a well-rounded, customizable workout session. Being able to toggle through various resistance levels in a matter of seconds is empowering and leads to numerous benefits.
The benefits include:
Tailored Workout Experience
Easy to Adjust
User-Friendly Design
2. Dual Link Pedals
The pedals have a streamlined design to cushion the feet even when riders are pedaling rapidly. They come equipped with aesthetically pleasing toe cages making it easier to keep the feet in place.
3. Backlit LCD Console Monitor
The monitor is a striking feature when it comes to the Schwinn IC4 and what makes it stand out. This bike has a beautiful backlit display that provides a stream of information during the workout session.
This information includes:
Speed
Distance Covered
Time
Calories Burned
RPMs
Heart Rate
Riders can optimize their workout session by reading through this data and making adjustments on the fly.
4. BlueTooth-Enabled Armband for Heart Rate
To empower the rider and provide cutting-edge information during a workout session, a Bluetooth-enabled armband is sold with the bike. This armband is synced to the monitor and relays data back to the screen for riders to analyze. This is ideal for those wanting to keep their heart rate as steady as possible.
Specs
Dimensions: 48.7″ x 21.2″ x 50.8″
Weight Capacity: 330 Lbs.
Power: Wall Adapter
Transport Wheels: Yes
Bike Weight: 106 Lbs.
Water Bottle Holder: Dual
Designed to Work with Peloton App?
The real charm of using Schwinn IC4 is seen through its app-friendly design. It takes no more than a few seconds to start syncing your Peloton, Zwift or Explore the World app straight to the display.
This is essential for those wanting to add a unique twist to how they work out on an exercise bike. These apps are power-packed with the latest live-streamed classes and on-demand content.
Who Should Consider the IC4?
If you are someone that is intrigued by the idea of riding a Peloton bike, it's better to go with the Schwinn IC4. This is going to be a far more budget-friendly exercise bike that offers access to the same app content that makes Peloton amazing. Riders will know they are gaining access to the same content and still saving money along the way.
Schwinn IC3: Overview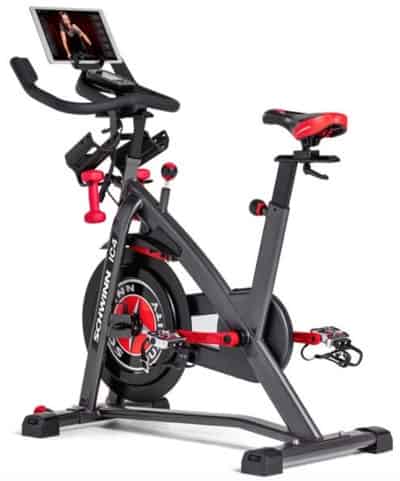 The Schwinn IC3 exercise bike is a state-of-the-art machine ideal for beginners and offers a comprehensive selection of features.
This is a bike designed to offer comfort, performance, and durability for those desiring a high-powered machine for their home gym.
Features
1. 40-Pound Flywheel Drive
Having a high-powered 40-pound flywheel drive gives it the quality needed to compete with the world's top exercise bikes. The resistance levels are easy to toggle through making it an ideal bike for both beginners are experienced riders.
Simply hop on, set the resistance level, and start enjoying the perks of this unique machine.
2. LCD Screen
The backlit LCD is a joy to behold for those wanting a gorgeous screen to look at while working out. Not only is this one of the more appealing screens on the market, but it also provides a consistent stream of data.
This data includes:
Speed
Distance Covered
Time
Calories Burned
RPMs
Watts
Being able to go through relevant information such as the number of calories burned or distance covered can lead to a fine-tuned workout session.
3. Wool Felt Pad
The wool felt pad is an exemplary feature for those wanting a comfortable riding experience from start to finish.
This pad nestles against the body keeping it as protected as possible.
4. Multi-Position Handlebars
The handlebars have been designed with a purpose making it easy for riders to switch hand positioning easily.
This is essential for those wanting to maximize how they're seated and where their hands are based on intensity.
These handlebars come with a long list of advantages for modern riders.
The advantages include:
Improved Control
Slip-Resistant Texture
Complete Customization of Biking Experience
5. Infinite Resistance
Users can easily choose the amount of resistance needed to get more out of their workout sessions. If the goal is to enjoy an exercise bike with the ability to provide significant resistance than this is a good starting point.
This is an exercise bike that can keep up with a rider's demands in the middle of a workout session.
Specs
Dimensions: 45″ x 23″ x 49″
Weight Capacity: 300 Lbs.
Power: Wall Adapter
Transport Wheels: Yes
Bike Weight: 100 Lbs.
Water Bottle Holder: Yes
Can the IC3 Used with Fitness Apps?
Yes, there are some fitness apps out there that you can use your IC3 with, although they may be missing some of the features.
Users can sign up with the Peloton app or any other app before syncing it directly to their TV. This is manageable for some but it is still not as well-synced as having it on the monitor like the Schwinn IC4.
Who Should Consider the IC3?
This is an exceptional exercise bike for those wanting a budget-friendly addition to their home gym. If you are someone that doesn't like using apps during a workout or doesn't seek live-streamed content then the Schwinn IC3 is a compelling purchase.
It has a unique set of features and still has that Schwinn-engineered design everyone craves.
Features Comparison: Is IC4 or IC3 More Complete?
When it comes to comparing features, both offer a compelling blend of positives. It's all about finding out which features are most important for you as a rider.
The Schwinn IC4 offers everything Schwinn IC3 does plus the ability to connect with some of the world's leading apps and a Bluetooth-enabled armband for heart rate readings.
Price Comparison: The Cheaper Bike is…
The Schwinn IC3 is priced at $499 with free shipping. This is an ideal option for those on a budget as it provides a long list of high-powered features without costing a lot.
In comparison, the Schwinn IC4 is priced at $749 and offers a comprehensive solution for those wanting an app-friendly design.
Summary: How to Decide Between the IC3 and IC4
It's all about preference when it comes to the Schwinn IC3 and IC4 bikes.
Both are unique, well-designed, and highly-rated among fitness enthusiasts. However, it's often going to come down to what your situation demands and that varies from person to person.
For example, if you are someone that wants a high-quality, budget-friendly exercise bike then it's best to look at the Schwinn IC3. However, if you are an individual that is on the lookout for an app-friendly exercise bike then it's better to lean towards the Schwinn IC4.
Your best bet?
Resources