Last Updated on September 4, 2020 by Sam Corbin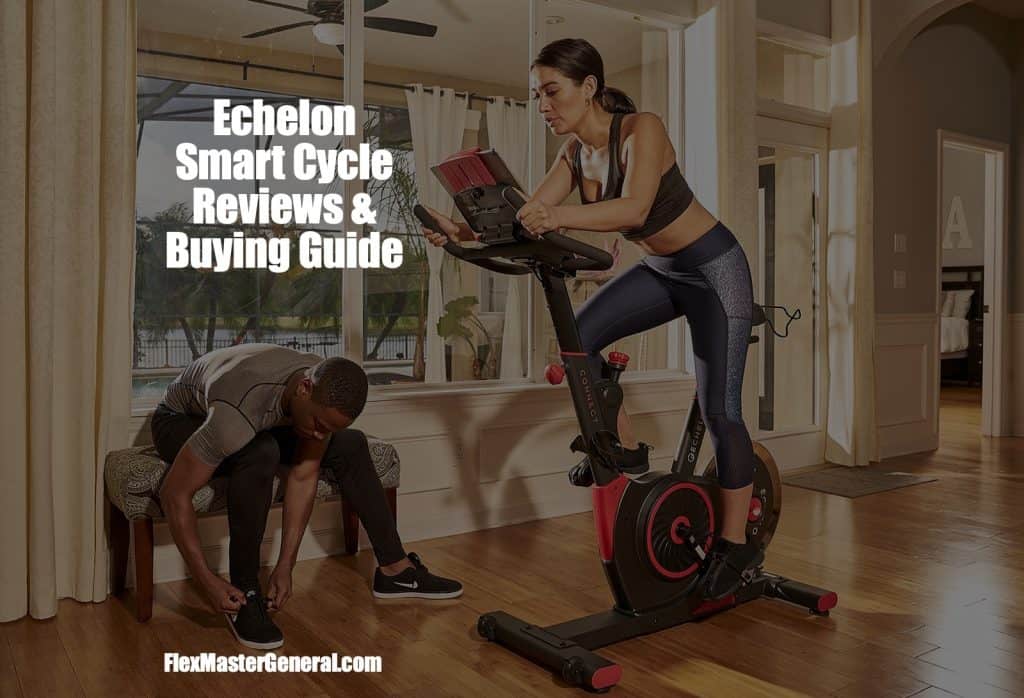 Searching for an honest review of the Echelon Smart Connect Bikes? Perfect, here it is:
Wouldn't it be amazing if there were an exercise bike that all of the latest technology: bikes with things like live and on demand exercise classes, race-style pedals, magnetic resistance, was super high-quality, and was actually affordable?
Good news…
That exercise bike does, in fact, exist, and it's called the Echelon Smart Connect. Echelon Fit offers an amazing bike and class experience, but without the huge price tag the bikes like the Peloton bring: Ultimate affordability, combined with all of the quality and technology that you would expect to find in a much more expensive bike, including a huge variety of spin classes.
In this review, we'll detail exactly why this may just be one of the hottest exercise bikes on the planet, and give you the information you need so you can officially decide if this could be the right one for your home.
Echelon EX1 Bike Features & Specs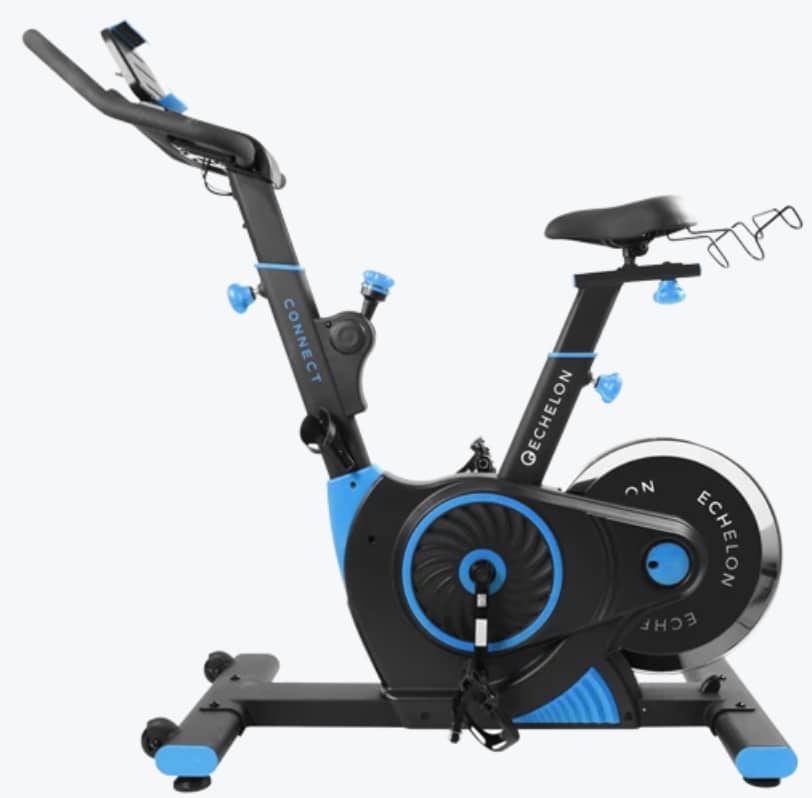 Price: See Latest Bike Price
The EX1 bike is Echelon Fit's most affordable and first bike model they released. It currently comes in Royal Blue or Red. They could be the most amazing exercise bikes for the beginning cyclist, but can be used by advanced riders as well. Here's a bit more information on one of our favorite bikes and Peloton alternatives:
Features
Streaming Bike Classes Lead by Instructors in Real Time from Your Home: Pick the Perfect Class for Your Abilities
On-Demand Classes from World Class Instructors (Class Subscription Required)
Bluetooth Ready
Scenic Ride Simulations
Race Pedals
32 Levels of Smooth Magnetic Resistance (easy to set)
Comes with Adjustable, Comfortable Sport Seat
Super Durable Welded Steel Frame w/Powder Coat
Minimal Footprint: 3′ 5″ L x 1′ 6″ W
Dimensions: 59″ L x 53″ H x 23″ W
Free Shipping plus Money Back Guarantee
EX3 Max Bike
Price: See Latest Bike Price
The Echelon EX3 Max Smart Connect Bike has a lot to bring to the table, including SPD compatible pedals, one media shelf….and what we think you may find to be one of the coolest options – being the ability to stream spin and workout classes on the Echelon Fit App. This creates an amazing riding experience.
On top of that you'll find a large library of on demand classes, as well as experience bike rides through some of the most scenic locations in the world, all from the comfort of your home.
What Makes the EX3 Different Than the EX1?
The EX3 Max is a step up form the EX1, and we even think you will find it brings some really cool upgrades, including SPD compatible pedals, dumbbell rack, one competition seat and bluetooth connectivity:
EX3 Features
Upgraded Motor for a Smoother Bike Ride
Competition-Style Seat
Upgraded Lightweight Triangular Tubing on all Exercise Bikes
Lever-Style Adjustment
Updated Resistance Adjusting Knob
32 Magnetic Resistance Levels (easy to set)
Comes with Race-Style Pedals
Bluetooth Access
Access to Class App and Instructors: Pick the Right Class for Your Needs
Experience Scenic Ride Simulations from Home
Free Shipping plus Money Back Guarantee
EX5 & EX5s Bike
Price: Check Latest Bike Price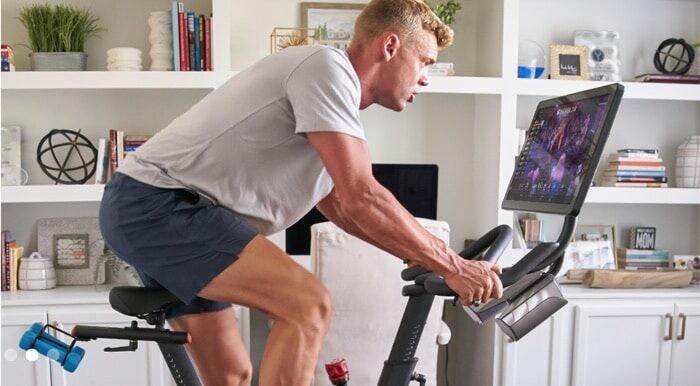 The EX5 and EX5s are two of the newest bike releases from Echelon Fit, and they are by far their best bike and experience yet.
These bikes are packed full of technology and if you've been searching for something that's very similar to the Peloton, but costs less, then you may need to put the EX5s at the top of your list.
Features
21.5″ HD Screen: Beautiful Display, Can Flip 180 Degrees: EX5s is their First Model to Offer a Screen
EX5s is a lot Like the Peloton but Cheaper
Upgraded Device Mount on the Regular EX5
Adjustable Aero Handlebars
Upgraded Competition Seat
Upgraded Bottle Holder and Towel Rack
Magnetic Resistance (easy set)
Updated Motor for More Precise Magnetic Resistance
Two Upgraded Pedals
Bluetooth Access
Upgraded Indexing Resistance Adjustment that's Quick to Set
Handheld Rack
Classes from Top-Notch Instructors from the Comfort of Home (with Subscription)
Option to pick a Class Based on Your Needs and Ability
Free Shipping plus Money Back Guarantee
For the first time, you can get an Echelon that has a beautiful, built-in flatscreen display, or if you prefer using your own tablet, you may get the regular EX5, with its upgraded mount – it can even rotate 180 degrees for the perfect display angle. Either one gives you will find a class variety that's unmatched by the competition, even Peloton.
Ready to Put the Power of the EX5 Bikes to work for you?
Echelon Bike Pros & Cons
Cons
Commitment Required: Need to get real results from your Echelon Smart Connect? It's going to take commitment on your part, and the drive to make big changes. If you're willing to make them, though, lookout…
Tablet Needed on Some Bikes: If you want to use the the Echelon App and classes, you will need a tablet or smartphone to stream the classes, unless you opt for the EX5s. At certain times of the year, Echelon will often include a free iPad or tablet with the purchase of a bike, so be sure to watch for those promos if you're in need of a device to stream their classes.
Pros
Affordable: The Echelon Smart Connect Bike, is one of the top bikes we have seen, especially with the incredible level of quality it brings to the table. They also offer some promos throughout the year, which can bring the overall cost down even more. Bikes with similar options, often cost $2,000 or more, so there's a ton of value with the Echelon.
Looks Amazing: When it comes to buying equipment for your house, no one wants a machine that looks ugly. I know this is a bit superficial, but seriously, if you're going to put a spin bike somewhere in your home, do you want something that you can be proud to display, or something you're embarrassed to have friends or family see? You'll find you don't have to worry about that with the Echelon! Look at the pictures, and you can tell that this is one beautiful looking spin bike. It's sleek and sophisticated, the color combo looks incredible, and it has roller wheels for easy storage.
Built for Everyone: The other really cool thing about the Echelon Smart Cycles, is that they have an option for pretty much any rider. Plus they offer enough durability and resistance levels for the most seasoned of riders, but they're also an excellent option for beginning cyclists. So no matter your ability, Echelon should be able to get the job done.
On Demand Workouts like Peloton, the Echelon can take your home workouts to the next level by taking part in spin classes in real time! Just stream them from your favorite device, and you can take part in the live workout from the instructor of your choice.
High Quality Build and Technology (The EX5s may be the model for you if you're looking for a built-in screen)
They also have a huge database of classes and scenic rides.
Real Customer Testimonials (Good + Complaints)
Their bikes have been available for a while now, giving serious riders plenty of time to put this awesome spin bike to the test. There are plenty of testimonials for you to read online – in fact, there are more than 1688 verified customer testimonials on their website. We encourage you to read one or two for yourself, but here are a few we wanted to share here:
Best classes ever! The live and on demand classes are worth every penny! I get bored easily so its so great to have so many. Its like a different experience each time I ride. This is the longest Ive ever stuck with my fitness goal. Usually I give up after a few months. Now I actually look forward to working out. I never thought I would say that. And the bike is pretty so Im not embarrassed to have it in my livingroom. -Adrianna, Verified Buyer
Sometimes I like to work hard with an instructor [on the Echelon App] but other times I just want a leisurely ride. I love the scenic rides. It relaxes me. The first time I rode through France I thought about a trip I had taken there a few years ago. I stayed on for an hour! It felt like five minutes. -Michelle, Verified Buyer
I'm in love! I LOVE the live rides because I feel like Im at the gym. Im not one of those people who likes to workout alone so Ive never had much success with any kind of in home program. But the fact that I can share my stats with others and workout live with a trainer keeps me going. -Maria, Verified Buyer
Complaints?
While the feedback seems to be mostly positive, there have been one or two customers who've had complaints. For a while they were having connectivity issues with their app, so we did see some bad reviews surrounding those issues. It's important to note, though, that Echelon addressed those connect issues, and the app and classes are streaming without issues at the moment.
Here are just a couple of other complaints worth nothing here:
Daniel B seemed to have an issue with customer service, but note that this arose during COVID, so some hiccups are to be expected:
Customer service was weak before we got the bike, granted it was COVID. The seat constantly gets loose and moves around, but this is noted in many reviews. Besides the seat "pain in the butt" condition, we enjoy it.
Tia Noted another customer service issue:
Not quite sure how to rate this. The bike is great but your customer service is terrible. I am trying to get you guys to cancel my husband's account so I can add him to my subscription using his email for the past month and have had no luck. There is no response and I keep getting the "we will look into it".
Again, keep in mind that these complaints surfaced at the height of the COVID pandemic, so we're guessing that was the main culprit. As an Echelon Fit customer myself, I haven't had any issues with my bike, Reflect, or customer service, for what that's worth.
Read more testimonials at their website.
How the Echelon App Works
The Echelon App offers multiple options to help take your indoor workout class to the next level. These include:
Live Rides: Live spin classes from certified cycle instructors will keep you motivated on track.
Ride When You Want: They're adding On Demand content everyday, for you to stream anytime.
Ride All Over the World: Hit the French countryside, or ride through Singapore – the world's your oyster.
What Tablets & Devices Does it Work With?
For the best experience, I would recommend using the Echelon app on a tablet, like the iPad, but it works on smartphones too.
You can connect the tablet to your Echelon with the included mount, which offers the perfect viewing angle for your workouts.
The Echelon App is Compatible with:
Apple Devices
Android Devices
Once you have the app downloaded, and your account has been activated you can start streaming the Echelon workouts right away, as well as access the simulated rides and pre-recorded workout library.
How Much Does the Echelon App Cost?
When you get an Echelon, you have a chance to get a great deal on the streaming service as well. A 12 month app subscription costs $399, and you can get a 24-month subscription for just $599. This is a great way to have a year or two worth of streaming available.
You can also pay for the app on a monthly basis, and they have a couple of different plan options to choose from, ranging in price from $12.99 to $34.99 per month.
EX1 vs. EX3 vs. EX5
Echelon currently has three models to choose from: the original EX1, the upgraded Ex3, and the brand new EX5 and EX5s. If you're looking for bike with a built-in screen for streaming your live workouts, then the EX5s should be your top choice.
The regular EX5 is their best bike you can buy if you want to use a table mount for streaming. You can see all of the upgraded options in the picture above.
Beyond that, the bikes are very similar in a lot of ways, so if you're looking for the best deal, you may want to go with the EX1. It's about $200 cheaper than the EX1, and you can get a lot of the same benefits that the EX3 offers.
Echelon Bike Price: How Much Do The Bikes Cost?
Echelon bikes range in price from $849 to $1839 depending on the model you choose.
The Echelon Smart Cycle EX1 has an MSRP of $1,199. Depending on the time of year, it can be purchased for as little as $799, however.
The Echelon EX3 has an MSRP of $1299. Right now you can save $300 on their latest model, though, and get it for just $999.
The EX5 starts at $1539.98 and goestup to $1839.98 for the EX5s, but they are currently offering discounted pricing on both of these models as well.
*See where to lock in these discounts and how much they cost but hitting the button below…
Summary: Where to Buy
The Echelon Smart Cycle gives riders an affordable option for streaming live spin classes in the comfort of their own home or office.
With the huge variety of live classes, scenic rides, and pre-recorded workouts to choose from, riders stay motivated, have fun, and get to participate in LIVE classes without having to go to the gym.
If you're looking for a high-quality and great looking spin bike, that features all of the latest technology, then the Echelon Smart Connect bikes should be at the top of your list!
Ready to Ride?
---
Resources