Last Updated on September 4, 2020 by Sam Corbin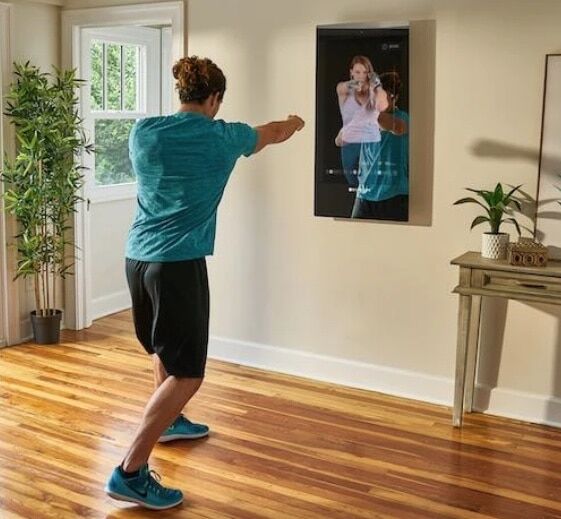 Looking for an honest Echelon Reflect review? Well, when it comes to streaming live fitness classes, Echelon is one of the leaders in the industry these days. They first entered the workout streaming business with the release of their Smart Connect Bike, and now they're turning heads again, with the release of one of the coolest workout platforms on the market.
Meet the Echelon Reflect, a 50 inch touchscreen, that looks just like your average mirror, until you turn it on…
Once activated, the Echelon Reflect turns into a live-action workout experience, that offers a full range of fitness opportunities right in the comfort of your home or office.
In this Echelon Reflect review you'll learn everything you need to know, including the specs, pricing options, available workouts, and where you can buy the latest innovation from the Echelon team.
What is the Echelon Reflect?
The Echelon Reflect [1] is an advanced home gym system, that's one of the first platforms of its kind. When you first open your shipment, you'll be surprised at just how sleek and modern the Reflect looks.
It actually looks great hanging in your home or office, but the best part is, it is a full functioning workout platform, packed into a large, flatscreen that you hang from your wall.
You can use the Reflect to access the Echelon Experience app, which is where you can take part in live spin and fitness classes, and access their large library of pre-recorded workouts.
How Does it Work?
As you can see in the pictures, what looks like a stylish mirror, is actually a large screen that is used to stream workouts from Echelon.
If you get the 50 inch, then the Reflect is a touchscreen, so you can activate your favorite workout simply by tapping the Reflect.
If you're a member of their Connect Bike streaming membership, then you can get started with the Reflect membership for free.
Simply launch the app with the touch of the screen, and you're ready for live or prerecorded workouts anywhere you can mount the Reflect.
Live Workout Options

Cardio
Core
Meditation
Pilates
Strength Training
Stretching
Tone
Yoga
Zumba
Barre
Boxing
All that's required is a small workout space, a wall to mount your Reflect, an internet connection, and some small workout equipment, depending on the program you select.
Specs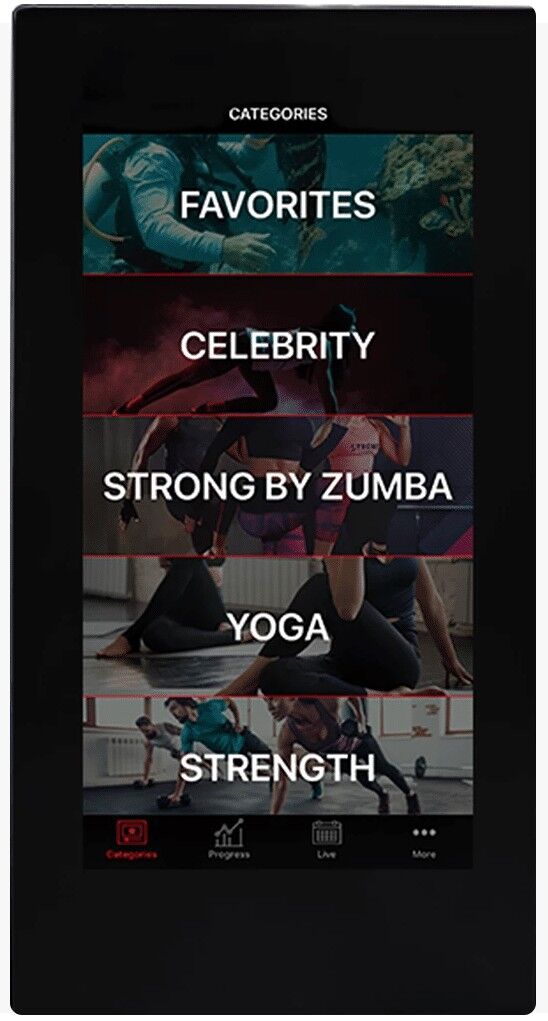 The Reflect comes in two sizing options:
40 Inch
50 Inch: Touchscreen
If you have the space for it, you'll most likely appreciate the larger machine over the long run, if it fits within your floor plan and budget.
Ultimately, you'll just need to decide which size Reflect fits your space, and meets your fitness requirements. Because it is flat and mounts on the wall, you really don't need a ton of space to be able to get a great workout.
If you opt for the 40 inch version, you can use the app on your phone or tablet to get the workouts started. Those who choose the 50 inch reflect, get a touchscreen, so everything is done right from the Reflect Touch.
Pros & Cons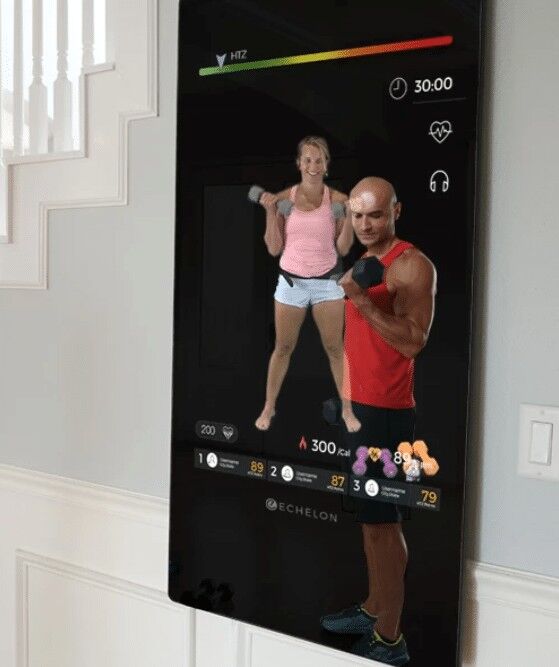 When it comes to fitness equipment, there is almost always some pros and cons for you to consider before buying. Let's take a quick look at both, to help make your buying decision a bit easier.
Cons
Have to Commit to Regular Workouts to Get Results
Requires a Monthly Subscription to Access Workouts
Some Equipment Required
Internet Connection Required
Cost Can be Prohibitive
Pros
Looks Like a Stylish Mirror, Until You Power it On
Touchscreen Functionality Available
Sleek and Modern Look and Feel
Take Part in Live Workouts
Large Library of Prerecorded Workouts
Large Variety of Programs and Workout Styles to Pick From
Free Reflect Membership if You Already Have Their Spin Membership
Great for Small and Large Spaces
Financing Available on Select Packages
Verified Customer Testimonials
Wondering what real Echelon reflect customers are saying about their home gym mirror? There a plenty of verified reviews for you to check out at the Echelon website, but here a just a couple we wanted to share here.
Let's start with the positive reviews:
Amanda said the Echelon Reflect was every bit as challenging as her personal trainer:
I am a stay at home, full time working mother of 3 kiddos, and I often do not get out of the house so I use my mirror at least 2-3 times/day and I love it! It has changed my life immensely and I am so glad I purchased this mirror! I even hired a personal trainer prior to knowing the Echelon Reflect existed and have found that many of their workouts are just as intense if not more intense than hers and I love it! I 100% recommend buying this product! You will not regret it and you don't have to worry about the hassle of going to gym! Win Win!
Renee says her Reflect has been a hit with the entire family:
My whole family uses and we are working out more and as a family, its a fun competition to see who works out the most for the week as we are all getting healthier. Love it!
Are there any complaints? There are some bad reviews we've seen. They range from the music selection, to wishing there were more workout options, to shipping issues.
It's important to note that the Echelon Reflect is a very new machine, so they're sure to be adding more workouts and options as time goes on.
Overall, reviews are positive, though, so we think you'll appreciate with the Reflect has to offer.
Price: How Much Does the Echelon Reflect Cost?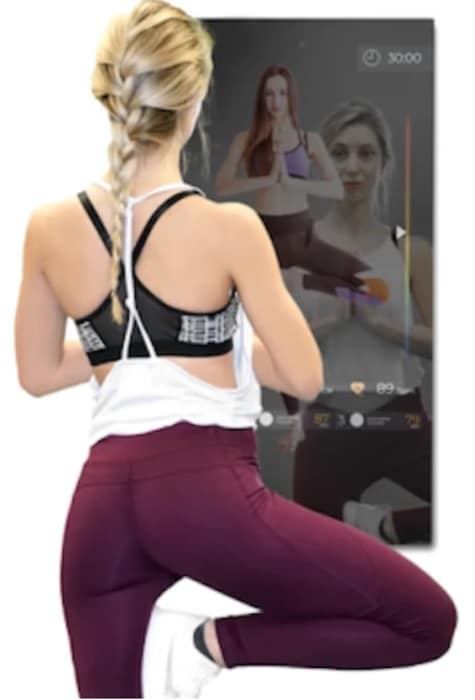 The Echelon Reflect starts at $1039.98 for their 40″ model, plus a monthly subscription. You can bring the subscription cost down by purchasing it in yearly installments.
Here are their current packages and pricing options for each:
Reflect 40 Inch
40 Inch + Monthly Subscription: $1,039.98 + $99 Shipping
40 Inch + 12 Month Subscription: $1,399.98 (Saves You $79.89) + Free Shipping
40 Inch + 24 Month Subscription: $,1599.98 (Saves You $359.77) + Free Shipping
Reflect 50 Inch Touchscreen
50 Inch + Monthly Subscription: $1,639.98 + $99 Shipping
50 Inch + 12 Month Subscription: $1,999.98 (Saves You $79.89) + Free Shipping
50 Inch + 24 Month Subscription: $2,199.98 (Saves You $359.77) + Free Shipping
Check Current Reflect Prices at Echelon
Financing Options
Echelon does offer financing through affirm on select Reflect packages, for those who qualify. In order to get financing, you have to opt for a yearly subscription package.
Monthly payments start at $65 for the 40 inch Reflect, and $93 per month for the 50 Inch Touchscreen.
Warranty
Both models of the Reflect come with a 1 year warranty. It covers parts and labor.
Return Policy
Should you decide that the Reflect isn't the right workout platform for you, you have 30-days to return it for a replacement or a refund.
Review Summary: Where to Buy
The Echelon Reflect is one of the most modern and sophisticated machines currently available on the market. Results are going to be different for everyone, and if you want to make real changes to your body, then you'll need to commit to a workout program.
If you think you're ready to make the commitment, though, and have been looking for an amazing home workout platform, then the Echelon Reflect is definitely worth considering.
It looks like a modern mirror, but quickly transforms into a live workout class with the simple tap of the screen. It's like having your own personal trainer on call whenever you're ready for a workout.
Think the Reflect sounds like a good fit for you?
The Echelon website is currently the best place to buy the Reflect:
---
Resources
Reflect Touch Mirror, Echelon. Retrieved at https://echelonfit.com/products/reflect-large
FlexMaster Comparison: Echelon Reflect vs. MIRROR
Connect with the Best Echelon Coupons
Find More Home Gyms Reviews at: FlexMasterGeneral.com