Last Updated on September 28, 2020 by Sam Corbin

Peloton vs Bowflex C6? Well, it's no secret that exercise bikes have become one of the most popular pieces of fitness equipment in recent years, and lot of that has to do with Peloton. They introduced us to live and on demand spin workouts from the comfort of your home or office, and they've quickly become one of the highest-rated cycling options around.
Bowflex recently entered the exercise bike space, though, and now they're offering a cheaper alternative to the Peloton.
This has many people asking which of these bikes is better.
In this article will compare the new Bowflex C6 Bike to the Peloton, so you can decide which of these two highly-rated cycles is going to be the better fit for you.
First, though, let's briefly compare the price of each bike, so we can quickly show you which of these bikes is the cheaper option.
Price Comparison: Which Bike is More Affordable?
Bowflex is the more affordable bike.
If we're simply talking about overall cost, then Bowflex is by far the cheaper option.
Peloton: Starts at $1,895
Bowflex: Starts at $999
As you can see, Peloton's entry-level package is almost 3 times the cost of a Bowflex Bike.
If you're looking for the cheapest option, then we recommend starting with the Bowflex C6.
Learn more and check their latest prices here.
Now that we've looked at the prices of these two bikes, let's dig into the features that each one offers. This may give you a better idea about which of these exercise bikes is going to be the best fit for you.
1. Bowflex C6 Bike
Cost: Check Latest Prices at Bowflex Website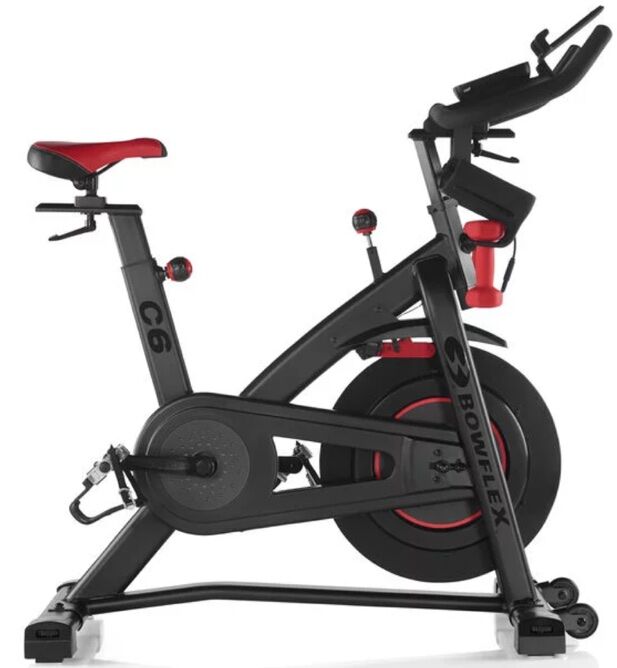 The Bowflex Bike is the newest release from one of the top-names in the fitness industry [1]. With the C6, customers now have the option of buying a very affordable exercise bike, that can be used with some of the more popular fitness apps, including Peloton's.
That means, you can buy a Bowflex bike for a fraction of the price that many other exercise bikes cost, and still get access to live and on demand workout classes. All you need is a tablet or device for streaming the workouts, which can be mounted on the included tablet rack.
Features
Smooth, Silent Ride
LCD Console with Backlight
Magnetic Resistance – Up to 100 Micro-Adjustable Levels
3 LB. Dumbbells Included + Easy-Reach Rack
Bluetooth Ready
Financing Available
Live & On Demand Workouts?
Bowflex doesn't currently have their own streaming platform, but that doesn't mean you can use the C6 to access your favorite live and on demand workouts.
In fact, you can access a variety of fitness apps, including Peloton.
All you need is a tablet, and you can connect to the bike via Bluetooth.
This makes the Bowflex one of the best and most affordable biking options for streaming live and on demand fitness classes.
What Real Customers Are Saying?
The Bowflex C6 Bike is very new to market, but they have had a lot of positive customer feedback already on their website. Here's a look at what a few verified Bowflex customers had to say about their C6 Bike:
This bike is amazing! Got it for the wife at Christmas (our gym cancelled spin classes and she really missed them). She uses it 3-4 times a week I use it 1-2. The build quality is surprisingly sturdy (every bit as solid as the ones at the gym); the adjustability is awesome (both handlebars and seat move fwd/back as well as up/down), the device shows cadence, time, resistance & calories, which is great – we use it with the peloton app (the device holder holds our iPad perfectly) – the only thing you miss with Peloton is your stats are not on the leader board (the horror!!! 😉 and you have to convert their resistance numbers down to around 2/3 or so, but with the cadence monitor the classes work great. And the magnetic resistance is amazing! This bike is TOTALLY SILENT!!!
Awesome bike, Peloton move over! I purchased the Bowflex C-6 as a Christmas gift for my wife after researching the reviews and test videos. I was amazed at the comparisons to the Peloton at about 1/2 the cost. My wife absolutely loves this bike. She's training for her first Ironman and this bike is a perfect addition to her training program. I've tried it myself and it's solid, quiet and smooth running. We signed up to the Peloton App ($12.99 per month) and are connected to a large screen tv which virtually puts you right in the middle of the pack! Couldn't really find any cons to point out. Quality machine at an affordable price.
Where to Buy
If you're ready to get your hands on one of the most affordable and high-quality exercise bikes, that can be used for streaming live and on demand workout classes, then the Bowflex C6 Bike may be your perfect fit.
At last check they were offering some pretty awesome deals and introductory pricing.
Learn more and check latest Bowflex prices here.
2. Peloton
Price: Starting at $1,895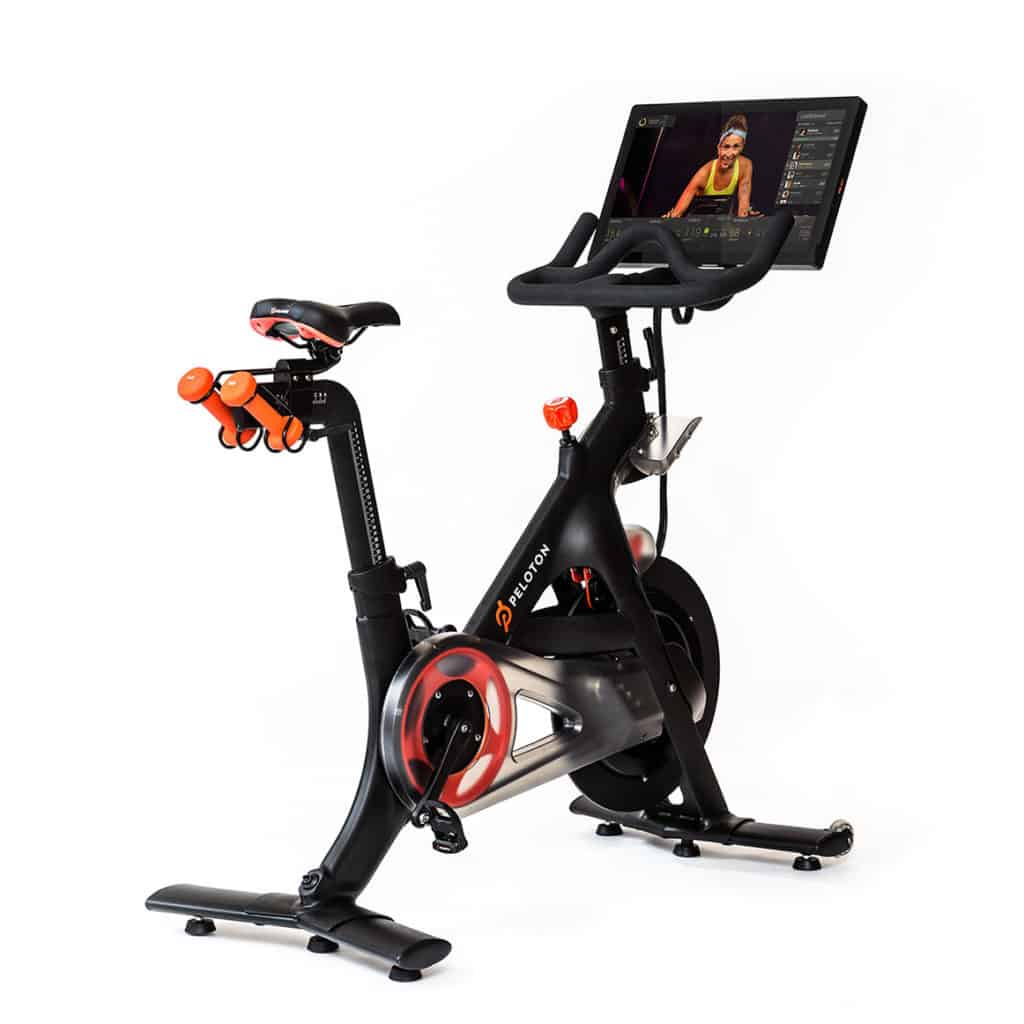 Peloton has established themselves as an industry leader in the exercise space, and when it comes to streaming live and on demand workouts, there pretty much in a league of their own.
Their classes are led by world-class fitness instructors, many of whom have become celebrities in their own right.
The biggest drawback with the Peloton is probably the price tag, but they do offer financing options for those who are interested.
On top of their streaming and on demand options, their bikes are also packed full of quality and features.
Features
Compact Footprint
Super Quiet Ride
90+ Live Weekly Classes
Huge On Demand Library
Heart Rate Monitoring
Huge Built-in Touchscreen (Don't need to buy a tablet)
Delivery and Set-Up Included with Purchase
Plus Models Features Larger Screens that Rotate and Turn
Live & On Demand Workouts?
Absolutely. Peloton is the industry-leader when it comes to live and on demand workouts, and that's pretty much what they've become known for.
Their classes, rides, and workout programs are some of the best in the business, so if you opt for a Peloton, know that you're getting access to an amazing live and on demand workout experience.
What Real Customers Saying?
Peloton has a 4.8/5 rating, based on the 3,171+ reviews on their website. Here's what just a few of these customers had to say about their Peloton bike:
You made me love you. I didn't want to do it. I was skeptical that I would enjoy "spinning." After one ride I couldn't stop. In two months I am up to 207 rides. My wife also loves it.
Great bike. Don't get me wrong, when you start riding (as a beginner) every ride is tough. After 2 weeks, the rides still seem tough but I was really starting to feel better about myself and I was also losing weight. In about 1 month, I actually started to look forward to the ride each day and continue to feel better and better. I now have days where I push myself, and days I recover (easy low-impact). I am very happy with this purchase.
Lives up to the hype. Bike is great to ride. The resistance knob is very sensitive and consistent. All the instructors are good and motivational. The time goes by very quickly. I was not really interested in the non-cycling offerings, but it turns out the stretch videos are very good and useful.
Where to Buy
At last check, the only you could buy a Peloton bike is in one of their showrooms, or at their website. From there, you can see all of the packages and pricing options they offer, and also learn more about their financing packages.
Comparison Summary
Both the Peloton and Bowflex Bike have a ton to offer in terms of quality, features, and workout options. When it comes to live and on demand bike workouts, Peloton is as good as it gets.
That said, it's also pretty dang expensive.
If you can afford the $1,895+ price tag, then the Peloton may be your perfect fit. If you've been looking for something cheaper, that can also be used for live and on demand workouts, including the Peloton app, then the Bowflex C6 may the the bike you've been looking for.
Learn more and about the Bowflex C6 and check current prices here.
---
Resources
Bowflex C6 Bike, retrieved here: https://www.bowflex.com/bikes/c6/