Last Updated on September 28, 2020 by Sam Corbin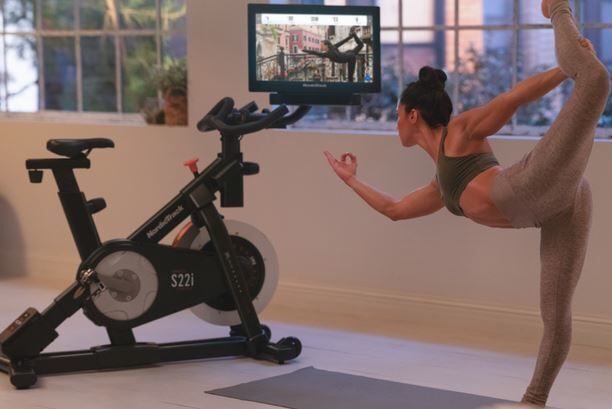 Nordictrack vs. Peloton? Well, it's no secret that both exercise bikes are a perfect way to get in an intense workout from the comfort of home. In recent years, there's been an explosion of interest in exercise bikes that offer live and on-demand workout options. The Peloton and Nordictrack Commercial Studio Cycles are particularly popular options.
If you're torn between these bikes, you'll want to take a closer look at both models.
Nordictrack Commercial Studio Cycles: An Overview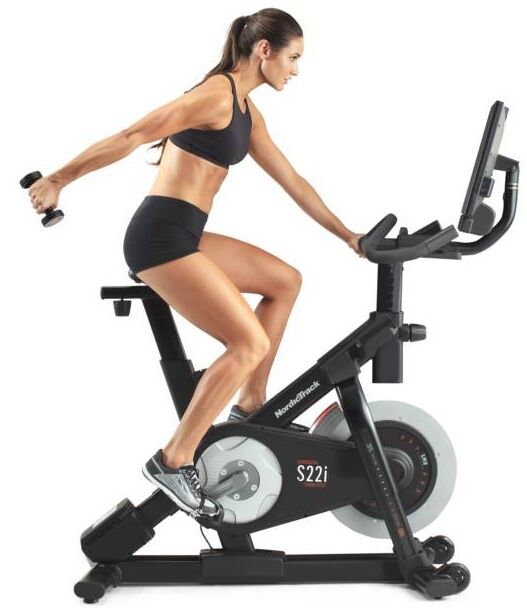 Nordictrack has long been a leader in home exercise equipment, but their Commercial Studio Cycles are above and beyond the home gym equipment of the past. This high-quality stationary cycle is connected to a 14″ or 22″ Smart HD touch screen, which provides users with access to a wide array of on-demand interactive training sessions.
The NordicTrack Studio Cycle with iFit has a flex frame that is designed to mimic the movement of a real bicycle. It features an inertia-enhanced flywheel that delivers a smooth and silent ride. The Cycle comes with a set of 3 lb dumbbells, allowing users to get an upper body workout as well.
The NordicTrack Cycle's on-demand workouts are designed with full-body fitness in mind. The Commercial Studio Cycle features adjustable resistance and incline controls. It's possible for trainers to adjust your incline, resistance levels, and speed during your workout sessions. It makes it possible to work out with a trainer at home.
The on-demand workouts offer plenty of variety, from studio sessions to cross-training to global workouts. Some of the workouts offered include:
Incline cycling
Full-body workouts
Strength training
Sculpting and toning
Boot camps
Yoga
With so many appealing options, anyone that has the NordicTrack Studio bike should be able to find exercise options that work for them. Although the Studio Cycle does not offer live workouts at this time, there's still plenty of variety.
Peloton: An Overview
Peloton's indoor exercise bike is designed to give users an intense and immersive cardio experience at home. The bike offers more than 90 live classes every week, which means users will always have plenty of classes to choose from.
It also provides a massive library of on-demand classes.
Peloton's studio cycling classes are designed to give users plenty of options. There are five-minute classes that are perfect for a quick workout and long and intense 90-minute studio sessions. Peloton divides classes into categories, such as:
Metrics
Rhythm
Beginner
Theme
Pro Cyclist
Live DJ
There are up to 14 live rides every single day, and the on-demand library means you can access classes at any time of day.
The Peloton bike is compact, making it suitable for smaller spaces, and its wheels are designed to provide a smooth and silent ride. The bike can easily be adjusted so that you can adapt it to your changing needs.
It's an incredibly durable stationary cycle that you'll be able to enjoy for many years to come.
Nordictrack or Peloton: Price Comparison
The Nordictrack Commercial Studio Cycle has two models: the Commercial S15i Studio Cycle and the Commercial S22i Studio Cycle. The S15i is priced at $1,599, while the S22i is priced at $1,999. Both models include a 1-year iFit Membership. After the free year is over, a subscription costs $39 a month.
All Peloton bikes require a Peloton All-Access Membership subscription, which costs $39 a month. Without a subscription, it's not possible to access live and on-demand classes. The subscription can be paused at any time.
Both the Nordictrack and Peloton cycles have numerous financing options available. Nordictrack offers 12, 36, and 39-month payment plans.
The Peloton Basics Package can be purchased for as little as $49 a month with 0% APR. Although home workout equipment like this can be a steep investment, there are numerous options that make it more affordable.
Features Comparison
Both bikes are sturdy, adjustable, and are designed to provide immersive workouts. The Peloton bike and the NordicTrack Commercial S22i Studio Cycle both offer 22-inch touchscreens, but the touchscreen on the S15i cycle is 14 inches in size. The smaller screen size of the S15i may be a source of frustration for some users.
No matter which model you choose, the Nordictrack cycle has a slightly larger footprint. The Peloton is 48 inches long by 24 inches wide, while the NordicTrack S22i is 55 inches long by 21.9 inches wide. Nordictrack and Peloton's cycles are both made from sturdy commercial-grade steel.
The Peloton has a manually controlled resistance system, while the Nordictrack's system is digitally controlled. The Nordictrack cycle offers incline features, but the Peloton does not. Both bikes offer built-in speakers, but only the Nordictrack cycle has a built-in fan.
Both Nordictrack models offer a rotating console, which is a feature that the Peloton is lacking. This may partially be because of the Peloton's compact design. The pedals on the Nordictrack bikes have a toe cage, while the Peloton's pedals allow users to pedal freely.
Peloton now has plus models to pick from, which makes their workout options some of the most complete we've seen. Rotate the screen, hope off your bike or tread, and take part in a bunch of different Peloton-led workouts from world-class instructors.
Workout Comparison: Live + On Demand Options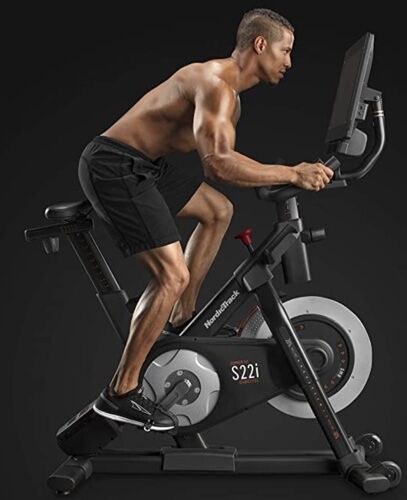 Both the Nordictrack and Peloton have a substantial library of on-demand workouts available. There are shorter and longer workouts, beginner and advanced workouts, and a variety of class styles. Furthermore, the classes on both systems prioritize expert instructors.
When you have one of these systems installed in your home, you'll be able to work with an experienced trainer.
Neither system is limited to cycling classes. Nordictrack and Peloton both offer yoga classes, though the rotating screen on the Nordictrack Cycle makes these classes easier to view. New classes are added to both libraries on a regular basis, but at the time of writing, Peloton is adding a larger number of classes each week.
The biggest difference between the Nordictrack and the Peloton workouts is that a Nordictrack iFit subscription will not provide you with access to any live workouts at all. Users will still have access to the on-demand library, but people that are motivated by live classes may find the Peloton to be the better choice.
Another major difference is the digital adjustments that are a part of Nordictrack's workouts. During workouts, Nordictrack users won't have to worry about adjusting their bikes during an intense class. However, Peloton's manual system means that users can adapt workouts to meet their needs.
Average Customer Ratings
These are two of the most popular in-home studio cycles on the market, and because of this, both systems have a lot of positive feedback.
Because the Peloton is the more expensive bike, so users seemed turned off by the high price tag, but overall they have a very loyal customer base. Since the two bikes have similar features, many customers believe that Nordictrack's bikes are a better deal overall, but keep in mind that you can take part in live workout classes using the Nordictrack.
Overall, Peloton has a very devoted following, and many customers claim that its classes are second to none. The Peloton bike has an active community on sites like Reddit, which means it's easy to connect with other users and get support.
Many Peloton users speak highly of the live classes, while Nordictrack users seem most impressed with the wide range of features that the Studio Cycle offers. Some Nordictrack customers have reported issues with Nordictrack's customer service department. This is something worth considering if you're trying to decide between both brands.
Summary: How to Decide Which Bike is Best for You
The Nordictrack Studio Cycle and the Peloton are both impressive exercise bikes. Both bikes are designed to be quiet, which means people can work out without disturbing the people around them. They both offer an impressive library of classes that are highly motivating. Both systems offer monitoring features that make it easier for users to work towards specific goals.
If you're trying to choose the bike that's the best fit for your needs, you'll want to think about what matters to you. Are you looking for the most affordable option available? Nordictrack's S15i cycle is a cost-effective option that still has a lot of amazing premium.
Do you want the most compact recumbent bike? The Peloton has a very small footprint and can fit comfortably into small spaces.
Live classes are one of the biggest advantages that the Peloton offers, which is why you'll want to think about how much this particular feature matters to you. If you're wary of paying a subscription fee, you may want to go with a Nordictrack cycle; you'll be subscribed for free for your first year.
Nordictrack and Peloton both make excellent products, which means there's no wrong option here. Consider your priorities and learn more about what both brands have to offer.
From there, you'll be able to find a bike that's a great fit for your needs.
Resources