Last Updated on May 26, 2020 by Sam Corbin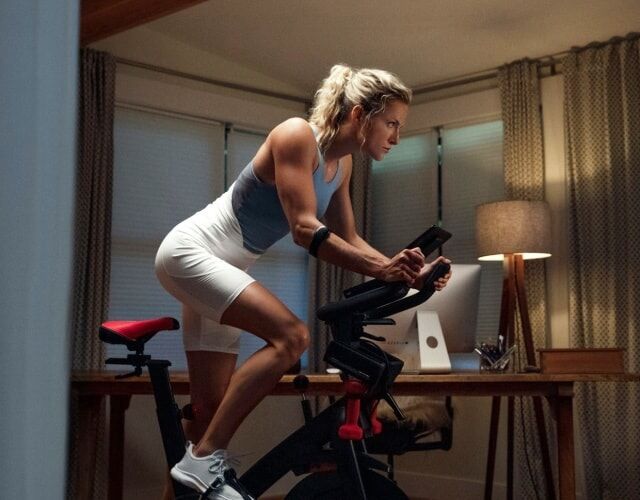 Bowflex C6 vs. Schwinn IC4 – which bike is better? Well, riding a bike is a terrific way to get in a workout, but roads aren't always safe for cyclists. It's possible to ride stationary bicycles at gyms, but many people are choosing to bring exercise bikes into their own homes.
The exercise bikes on the market today make it possible to stream live and on-demand workouts, bringing the studio experience into the living room.
The biggest drawback of streaming exercise bikes is the high price tag. A lot of the most popular options on the market are extremely expensive. The Bowflex C6 and Schwinn IC4 are a more affordable alternative to costly workout equipment.
If you're trying to decide which of these bikes you should purchase, these are a few things you'll want to consider.
Key Differences Between the Bowflex C6 and Schwinn IC4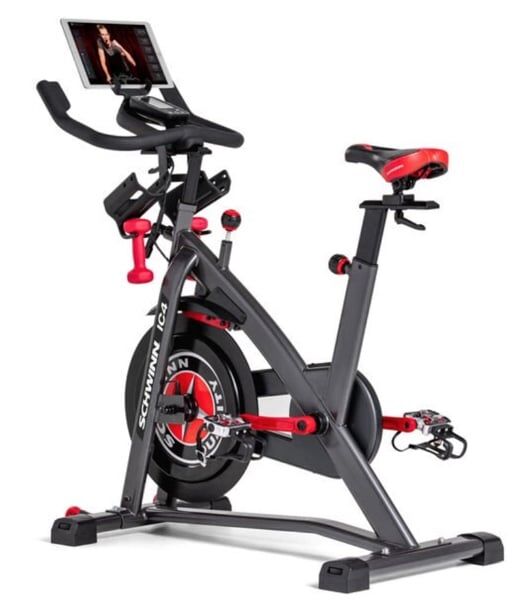 Both Bowflex and Schwinn are owned by the same company, Nautilus. These bikes are made by the same manufacturer, and by all appearances, they're completely identical. At a glance, the only difference between the two models is the branding.
They're identical in appearance, and they have the same features as well.
Neither bike has its own screen. Instead, you'll have to use your phone or tablet when you want to watch videos. Both bikes include a built-in full-color LCD metric screen that makes it easy for you to monitor progress and track your workouts.
They do have a media rack, making it easy for you to view a device during your workouts. It also includes a USB charging station so that you can easily keep devices charged during workouts.
The C6 and IC4 both offer 100 micro-adjustable resistance levels, allowing you to precisely adjust your bike so that you can find a resistance level that works for you. While you change the resistance level manually, the manual controls make the bike easy to adjust, even when the bike is in use.
Both bikes come with a heart-rate armband monitor that is Bluetooth enabled. If you're not getting your heart rate up during your workouts, you'll be able to change that. The Bluetooth connectivity also allows you to access any connected apps from your phone, tablet, or Smart TV. As mentioned above, there's a media stand on the bike, so using apps when you're on your bike should be a breeze.
The bikes also include a pair of 3 lb dumbbells. The dumbbells are held in cradles, making them easy to reach when you're riding. This allows users to get a full-body workout during a cycling session. The pedals on both bikes also have a built-in SPD function, just like the Peloton does.
Because these bikes don't have a built-in tablet, you won't be locked into any one ecosystem. In addition to the lower price tag, the biggest advantage that these cycles offer is their flexibility. Whether you choose the C6 or the IC4, you'll be able to experiment with different streaming fitness services and find something that works well for you.
Since these bikes are exactly the same except for a few minor differences in appearance, there's no strong reason to choose one model over the other. You can even expect a similar level of customer support for both bikes. If you're trying to decide between the two models, the most important thing you should be looking at is pricing.
Price: Which Bike is Cheaper?
Bowflex Pricing
Shipping is free, and the cycle comes with a free mat as well. Financing options are an option. For example, you can sign up for 18-month financing with payments of $53 a month. In-home assembly will cost an additional $129. You'll also have to pay more for a Bowflex protection plan.
Schwinn Pricing
The Schwinn IC4 costs $799.00, making it the cheaper of the two options.
It also offers free shipping, but it does not appear to come with a free mat. The cost of in-home assembly is the same: $129. The protection plan will still cost you extra. You can easily apply for financing, and you will have no interest if you manage to pay off the bike within 18 months.
Since these bikes don't have a built-in tablet, a subscription service isn't necessary. However, it is possible to use these bikes alongside other subscription services. Because of this, when you look at the cost of these bikes, you'll want to think about what you might be paying in subscription fees as well.
The Cheaper Option?
The Schwinn IC4 is significantly cheaper, and although a free mat doesn't seem to be included, it does seem to be a better deal overall. There's no difference when it comes to the cost of assembly or protection plans.
With that said, you won't necessarily want to pick up the Schwinn IC4. Instead, you'll want to compare the financing options for both bikes. Even though the Bowflex C6 will cost over $100 more, you may find that the options for financing are more suitable for you.
What Fitness Apps Are the C6 & IC4 Compatible With?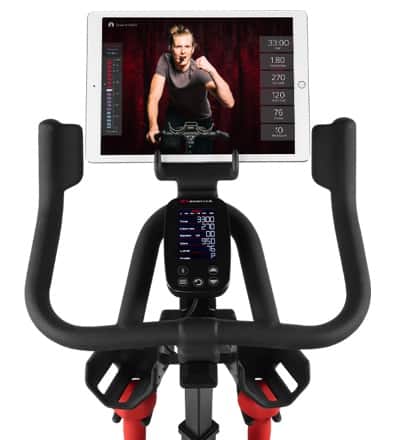 These bikes are designed to be compatible with many different fitness apps. They're specifically designed to be used with both the Peloton and Zwift apps, which means you'll have access to thousands of classes that you'll be able to stream on-demand.
You can also access the Explore the World app, allowing users to ride virtual trails on locations across the globe.
In addition to these apps, you can use virtually any streaming fitness app that's compatible with devices you own.
Peloton, CorePower On-Demand, Glo, and Aaptiv are just some of the apps you'll be able to use. Other apps that you can use include:
Peloton
The Sufferfest
All Out Studio
Work Training Studio
Gympass
RGT Cycling
Cyclecoach
Daily Burn
Many of these apps have free trials, which means you'll be able to experiment with different apps and find something that works for you.
If you do wind up using a subscription-based app, it's likely that the cost will be fairly manageable.
For example, after the free trial, the Peloton App costs $13 a month. Compare the monthly cost of a few different subscription apps so that you can find one that gives you a great deal.
Summary: How to Decide Which Bike You Should Buy
Because both of these bike models are essentially the same, there are two main factors that you'll want to look at when you're deciding what to buy: pricing and financing. The Schwinn IC4 is the cheaper of the two options, which is why it's the model that most customers will want to choose.
However, you should look at financing options for both bikes before making a commitment. If it's possible to get a lower monthly payment plan on the Bowflex C6, you may find that it's the better option for you even though you'll be spending more in the long run.
Aside from that, you'll want to keep a watchful eye out for discounts and sales. If you have the opportunity to get either of these bikes at a lower price, you'll want to take advantage of that. You may be able to get either bike at a discounted rate at any given time.
The Bowflex C6 and the Schwinn IC4 were designed with one goal in mind: to provide people with excellent in-home workouts at a more affordable price.
If you're put off by the high price tag of the Peloton, but you'd still like to get in a great workout at home, these bikes are an option that you're considering.
Our Top Choice?
We'd say Schwinn is the winner, as it's basically the exact same bike as the C6, with a cheaper price tag: