Last Updated on May 27, 2020 by Sam Corbin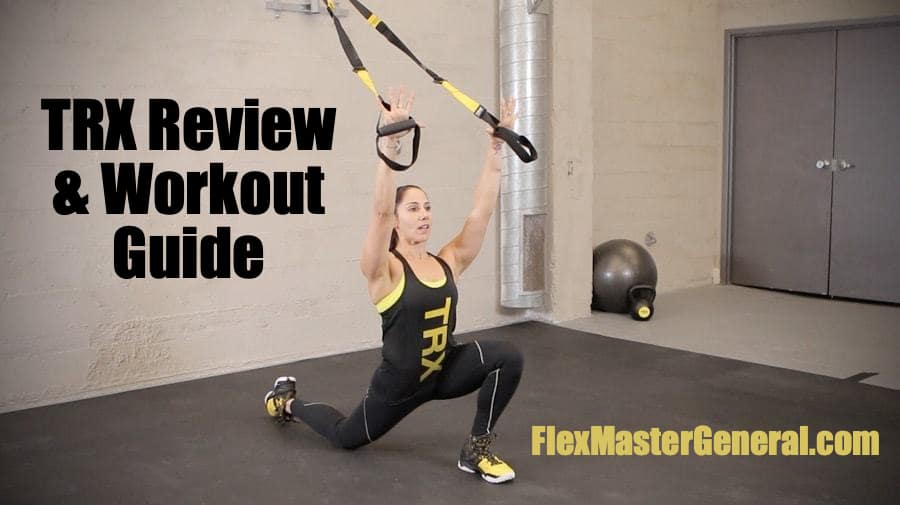 Looking for an honest TRX review? Let's start with the basics…
TRX stands for "Total Resistance Exercise" and was created by a well-acclaimed Navy SEAL named Randy Hetrick. In this TRX Review, you'll see why they're one of our favorite ways to get a great workout.
He has spent years understanding the nuances of the human body while battling in some of the world's harshest conditions. Having trained at such a high capacity, Randy understood the value of a well-designed resistance setup that could be used with nothing more than your own bodyweight.
This is where the idea of a TRX Suspension Trainer came up and was eventually released into the market.
The premise of a TRX suspension trainer is to harness the body and help control specific movements using the "suspended" resistance. This natural resistance comes not only from the TRX Suspension Trainer but also from gravity.
Here's a detailed review of the TRX Suspension Trainer and its various models.
TRX Suspension Trainer Models
1. TRX HOME2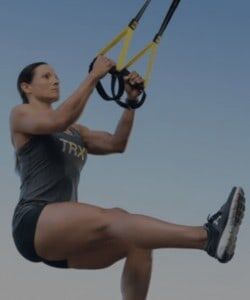 Features
Dense Foam Handles
Printable Workouts: 12
Ideal for Home/Outdoor Use
Anchoring Options: 2
1,300 Lbs Capacity
60 Seconds to Setup
Downloadable Workouts (PDF Guides): 6
This is the beginner model that is a great introductory into the world of TRX Suspension Trainers. The HOME2 is a unique option with dense foam handles that are equipped to manage two anchoring options. It is easy to set up, easy to use, and works well at home or outdoors.
Along with the TRX HOME2, you are also able to make use of over six downloadable PDF guides offering top-tier workouts.
2. TRX PRO4
Features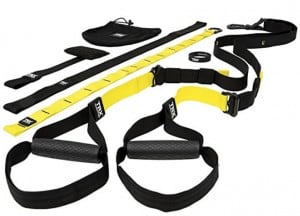 Antimicrobial Rubber Handles
Printable Workouts: 7
Ideal for Home/Gym/Outdoor Use
Anchoring Options: 3
1,300 Lbs Capacity
Adjustable Cradles
60 Seconds to Setup
Downloadable PDF Workouts: TRX Metabolic Blast/TRX Trainer Basics/TRX Endurance Circuit
This is the intermediate model and is designed to offer ideal use in all settings including the gym while offering tremendous resistance using antimicrobial rubber handles.
With multiple anchoring options, it's easy to set up and comes along with some of the finest TRX workout routines including the proven TRX Endurance Circuit!
3. TRX TACTICAL
Features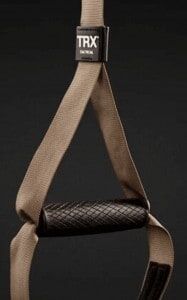 Firm Rubber Handles
Printable Workouts: 1
Ideal for Home/Gym/Outdoor Use
App Included
Anchoring Options: 3
1,300 Lbs Capacity
Adjustable Cradles
60 Seconds to Setup
Downloadable PDF Workouts: TRX FORCE Super App/TRX 3 Tactical Workouts
This is the "Elite" model under the TRX brand and is a legitimate option when it comes to resistance training.
With firm rubber handles and adjustable cradles, this comes with all the perks including a specialized app to help push workouts to the next level.
4. TRX Rip Trainer
Features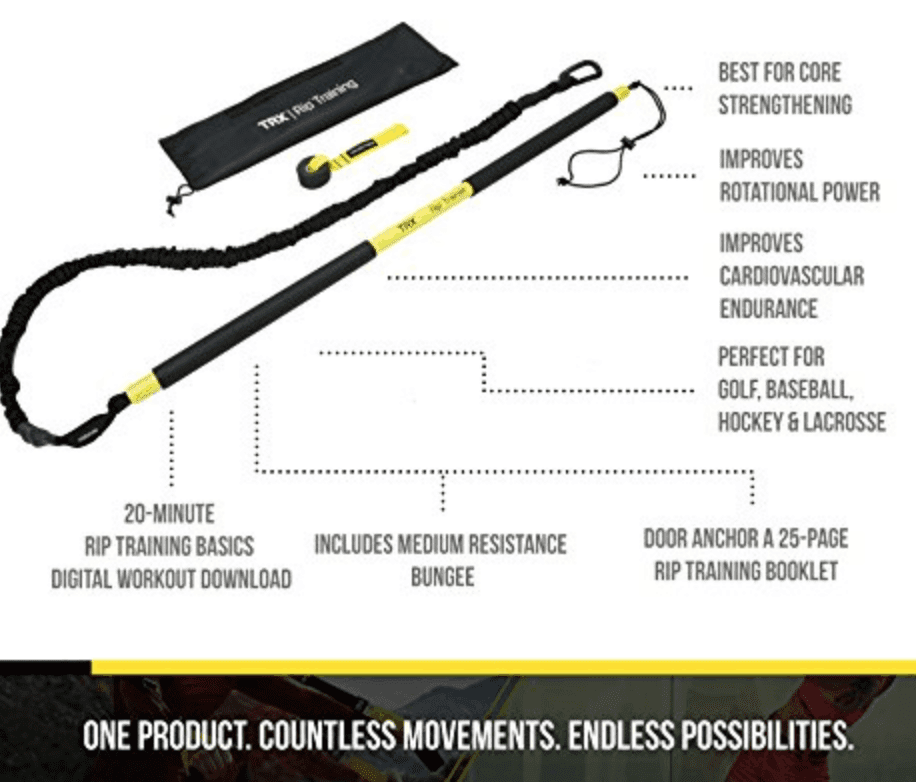 Robust Resistance Cord
One-Year App Subscription
Door Anchor
Safety Straps Included
The TRX Rip Trainer is an all-encompassing core and cardio solution designed to provide passionate resistance using nothing more than a durable cord.
Yes, all it takes is a cord and a simple door anchor to push the body to the limit!
The cord can be manipulated, twisted, and pulled in line with your workout requirements.
Ready to Put the Power of the TRX to Work for You?
Right now is a great time to buy!
CLICK HERE to Activate the BEST TRX Discounts
TRX Pros & Cons
Pros
1. Get an Amazing Full-Body Workout Anywhere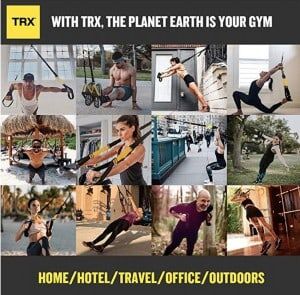 With any of the TRX Suspension Trainers, you can pretty much get an amazing full-body workout anywhere life takes you.
That includes:
Home
Office
Travel
Hotel
Outdoors
Plus, it takes up minimal space, is super portable, and can pretty much be taken anywhere! If you're looking for an amazing piece of gym-quality equipment that can be taken on the go, this is it!
2. Brand-New Exercise Options
Lying Leg Curls
Bulgarian Lunges
Shoulder Presses
Atomic Pushups
It has to start with the exercise variations because there's a lot to work with! You are not going to be left working on the same old movements.
This is when people end up getting bored and that's the last thing you want. As a result, the TRX Suspension Trainer is a unique workout option because it is able to introduce users to a wide array of brand-new exercises that might not have been possible in the past.
Whether it is the atomic pushups or the single arm rows, this is a solution that is able to target the muscles in a unique way.
Over time, a person will start to notice impressive changes in their physique and this has a lot to do with those new movements that are only possible using the TRX Suspension Trainer.
3. Easy to Setup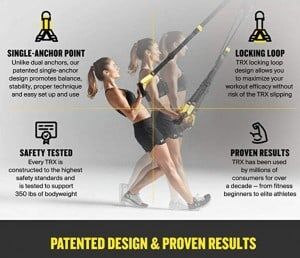 This product doesn't take a long time to set up and the company even promotes a simple 60-second setup time!
This is important for those who don't want to waste a lot of time getting things into place when their mind is on working out. By using the TRX Suspension Trainer, you're able to work on something that is going to take no time at all and will be ready to go as soon as you tie it in.
The solution has been made to work almost anywhere and that is why it's such a good option for the average person.
4. Great for Beginners & Fitness Experts
Let's assume you are hoping to add a little bit of muscle mass to your body. The TRX Suspension Trainer is going to be a wonderful addition to your selection of workout equipment. You will be able to tie this into place and start going through a unique selection of movements while building muscle.
The same applies to those looking to become leaner.
There are so many different movements that can be implemented using the TRX Suspension Trainer, which is why it is such an attraction solution. It is able to meet all of your workout goals without breaking a sweat.
4. Built to Last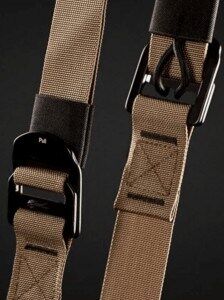 Another positive that has to be noted down for the TRX Suspension Trainer has to be its durability. You are looking at a robust set of handles and anchors that will last for a long time.
One of the main things the developers were looking to nail down was the longevity of their product. In this case, the materials are substantial and that is one of the reasons they back their product with a one-year guarantee.
They trust the product and it shows through its performance.
There's no creaking, ripping, or any other related damage that can become a cause for concern.
Cons
1. Some Find it Challenging
One of the biggest concerns that come with this product has to be the challenging nature of each movement. It's not as simple as picking up a dumbbell and cranking out a few repetitions.
Instead, you are going to have to learn to control your body with the help of the TRX Suspension Trainer.
While it is not going to be an elongated learning process, it's still something to keep in mind as you put everything together for the first time.
After a few sessions, you will be able to get the hang of things and this con disappears as the results pour in!
2. Some Worry About the Resistance
While the TRX Suspension Trainer is built on the premise of offering natural resistance, it still doesn't offer the same type of resistance one might get from a dumbbell/barbell.
However, this is not what the TRX Suspension Trainer is all about.
Instead, it is all about building flexibility while getting stronger or bigger. It's about that well-rounded physique which the average person is after. If that is something you want then the TRX Suspension Trainer will work out better than the average dumbbell/barbell.
This is something to note down even if it seems like a negative at first.
Best TRX Workouts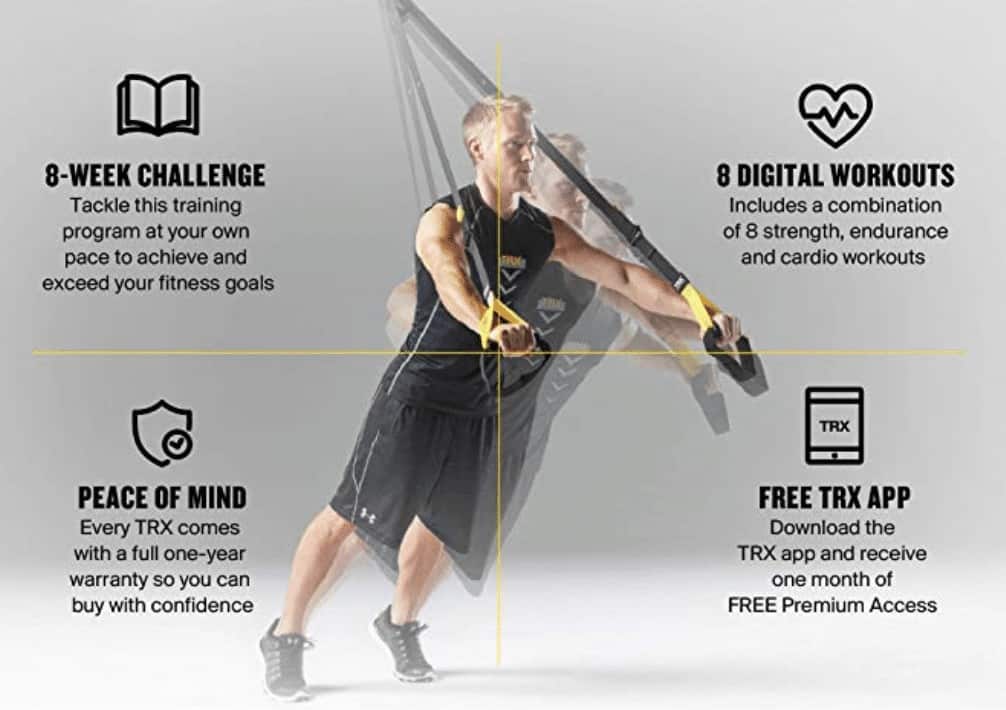 Building a premium workout regimen around a TRX Suspension Trainer can be a game-changer for those looking to get more out of their experience. It's important to target your entire body and make sure it's done in a timely manner.
This is where a well-designed workout regimen is going to go a long way.
To get started, look to set up the TRX Suspension Trainer in an area where there's enough room to walk around and complete each movement without interruption.
This is important as any delays in the workout can take away from your overall gains!
It's important to remember that whatever TRX system you decide to buy, is going to come with a bunch of great workouts for you to put to used right away!
Because of this, don't worry about having to spend too much time online looking for TRX workouts – they're going provide you with all of the great workouts you need to see amazing results!
That said, here's what one sample TRX workout might look like:
Sample Workout:
TRX Chest Press (Lean Forward and Press Up and Away)
Kneeling Triceps Press (Kneel Down While Holding the Handles and Extend the Triceps)
Inverted Row (Lie Down and Pull The Body Upward Using TRX Suspension Trainer)
Single Arm Row (Lie Down and Pull the Body Upward Using One Arm)
As one can see, this is just a sample of a small workout that can be completed with nothing more than the TRX Suspension Trainer.
The best part about this workout is how effective it can be in building strength, flexibility, and mass. A person is going to feel fitter than ever before because each option can be customized based on their physical needs.
With this level of control, you are going to be well on your way to a healthier self.
This is just an example of a workout that can be completed using a TRX Suspension Trainer but there are hundreds of variations a person can play around with. Choose the ones that are going to suit your needs best!
Real Customer Feedback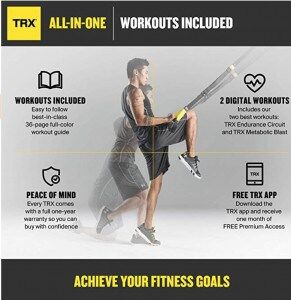 Before looking into the merits of this trainer and whether it's a good fit or not, there's no harm in assessing what other users have to say.
Here's some of the more recent feedback by TRX Suspension Trainer users.
1. Unique Movements
They mention the inclusion of unique movements that are not only fun but inspiring. Each movement is able to target a different muscle and that's what makes them impactful. It truly feels like a person is being pushed as hard as possible to help them reach their goals.
These unique movements end up leading to some of the most entertaining workouts and that can go on for years!
2. Fun and Easy to Use
Yes, there is a sense of entertainment that comes along with this product and that's never a bad thing. Users enjoy the idea of being able to set it up in less than 60 seconds before going through a fun list of targeted movements.
It can be exciting to challenge yourself while performing such movements on a daily basis.
3. Durable
People investing in new machines/equipment will always want something that is going to be worthwhile and long-lasting. No one likes the idea of spending thousands of dollars and then having the equipment break down.
TRX Suspension Trainers have been prepared with some of the finest materials in the fitness industry and that's something they attest to with their warranty.
Users state even the heaviest possible loads put onto the anchors/handles will go unnoticed because it doesn't tear.
The materials are made to last and that is something everyone can rely on.
4. Great Results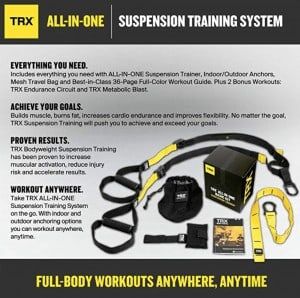 What is the one thing users want more than anything else when it comes to a new workout regimen? They want something that is going to last and will offer consistent results as they get stronger and stronger.
In this case, users have a lot of positives on their mind because the results continue to rush in after each session.
As people continue to go through the different movements or even follow the TRX-provided workout guides, they get faster, stronger, and more flexible. This is something almost every single user has mentioned about the product.
It is truly a power-packed home gym solution!
5. Easy to Setup & Use
The setup has been mentioned again and again as one of the biggest benefits associated with this product. It takes seconds to put into place and that's better than almost any other option on the market.
TRX Price: How Much Does the Suspension Trainer Cost?
TRX HOME2: $199.95 (Get it for Just $169.95 HERE)
TRX PRO4: $249.95 (Get it for Just $219.95 HERE)
TRX Tactical: $249.95 (Get it for Just $219.95 HERE)
TRX Rip Trainer: $189.95 (Get it for Just $159.95 HERE)
Where to Buy
Ready to put the TRX to the test? The best place to buy the TRX is their official website.
Review Summary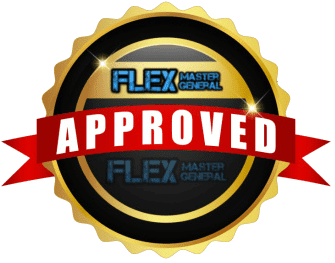 When it comes to an all-encompassing workout, this is a tremendous option for beginners and/or experienced users.
Traditional machines are often cumbersome, unhelpful, and inefficient while leads to a number of logistical issues.
Instead of relying on those machines and getting stuck in a bad position, it's best to invest in the TRX Suspension Trainer. It's a world-class machine that's easy to use, easy to store, and offers consistent value throughout your workout routine.
By building a well-designed workout regimen with the help of this machine, you're going to be well on your way to a wonderful setup.
If the goal is to work out with a purpose then it doesn't get better than the TRX Suspension Trainer!
Ready to Take Your Fitness Next Level?
CLICK HERE for Today's BEST TRX Discounts
---
Resources